With the rise in popularity of electric bikes, Ride1UP has emerged as a leading brand in the market. Known for its sleek designs and powerful motors, Ride1UP aims to revolutionize the biking experience by combining excitement and sustainability. In this Ride1UP review, we will delve into the features and performance of their eBikes to determine if they truly live up to their promise.
From their range capabilities to battery life and overall design, we will explore what sets Ride1UP apart from other electric bike manufacturers and how it can potentially transform your biking adventures into something extraordinary while reducing your carbon footprint.
Company Profile
Ride1UP was founded based on a crucial insight by its creator, Kevin Dugger. Recognizing the lack of affordable e-bikes with top-notch components in the market, Kevin saw an opportunity for positive change. His vision aimed to democratize the remarkable benefits of e-bikes. This involved making them accessible to a broader spectrum of people, even those with budget constraints.
Utilizing his expertise as a bike mechanic and builder, Kevin embarked on the journey of designing an electric bike that seamlessly combines affordability with high-quality parts. The result was Ride1UP – a brand that perfectly balances cost-effectiveness and reliable components. This allows individuals to experience the pure joy of cycling without compromising on quality.
Product Features

Ride1UP presents a wide array of e-bikes, each incorporating distinctive features to elevate the riding encounter. Without further ado, let's delve into the standout characteristics that underpin the impressive quality of Ride1UP's e-bikes.
RIDE1UP E-BIKE FEATURES
Frame Design
Different alloy frames (e.g., lightweight alloy, rugged alloy, and 6061 aluminum alloy frames) for various e-bike models, known for lightweight properties and structural integrity.
Motor Systems
350w to 750w geared hub motor with 40nm to 60nm torque, for smooth acceleration and optimized performance especially on uphills and challenging terrains.
Battery Systems
A battery system that can reach a remarkable range of up to 60 miles, depending on rider weight, terrain, incline, level of assist, etc.
Control Systems and Display Panels
User-friendly control systems and informative display panels for easy adjustment of settings and monitoring of battery life.
Suspension and Braking Systems
Hydraulic disc brakes and front suspension forks, for a smoother and more controlled riding experience
Accessories and Customization
Range of accessories to personalize and customize your electric bike needs, including fenders, racks, lights, and more!
Pricing and Value for Money
Ride1UP's mission is clear and practical: to provide affordable e-bikes without compromising performance or quality.
Make no mistake: they don't necessarily offer the cheapest e-bikes available. However, what distinguishes them is their commitment to using high-quality, renowned components. This ensures that you can enjoy top-notch features without exceeding your budget. Ride1UP believes that you deserve a remarkable riding experience without financial strain. From looking at their range, it seems that they deliver on that promise.
Sample Comparison: Cafe Cruiser of Ride1UP vs. Competitors

Let's evaluate three electric bike models: Ride1UP's Cafe Cruiser, Juiced's CrossCurrent X, and Himiway's Rambler.
These e-bike models present distinct alternatives in specifications and pricing.
Ride1UP Cafe Cruiser
The Cafe Cruiser from Ride1UP is priced at $1,495. It features a top speed of 28 mph and a battery range of 30-50 miles using a 48V/15Ah battery. It includes a 750W geared motor, an 8-speed gear shifter, a 1000-lumen headlight, and pedal sensors.
Juiced CrossCurrent X
The CrossCurrent X by Juiced comes at a higher price of $1,999. It offers an extended battery range of 65 miles with a 52V/15.6Ah battery. With a 750W motor and 9-speed gear, the e-bike can reach a top speed of 28 mph. Additionally, the inclusion of a 1050-lumen headlight and pedal sensors enhances rider safety across various terrains.
Himiway Rambler
Himiway's Rambler stands out with a budget-friendly cost of $1,299. It achieves a maximum speed of 25 mph, covering 55 miles per charge with a 48V/15Ah battery. Its features include a 500W geared motor, a 7/9-speed gear shifter, a 500-lumen headlight, and pedal sensors.
Each model brings distinct strengths. The Cafe Cruiser balances affordability and features effectively. The CrossCurrent X boasts higher specifications with a slightly elevated cost. Lastly, the Rambler provides a budget-friendly option for a comprehensive e-bike experience.
| | Cafe Cruiser (Ride1up) | CrossCurrent X (Juiced) | Rambler (Himiway) |
| --- | --- | --- | --- |
| SRP | $1,495 | $1,999 | $1,299 |
| Maximum Speed | 28 mph | 28 mph | 25 mph |
| Battery | 48V/15ah | 52V/15.6Ah | 48V/15Ah |
| Range per Full Charge | 30-50 miles | 65 miles | 55 miles |
| Geared Motor | 750w | 750w | 500w |
| Shifters | 8-speed gear shifter | 9-speed gear shifter | 7/9-speed gear shifter |
| Headlight Luminescence | 1000 lumens | 1050 lumens | 500 lumens |
| Pedal Sensors Available? | Yes | Yes | Yes |
Impact on Sustainability and Environment
Ride1UP is dedicated to promoting sustainability and reducing our environmental impact through the use of electric bikes. They recognize the importance of sustainable transport and actively encourage a shift towards greener alternatives. By advocating for the reduction of carbon emissions, Ride1UP aims to contribute to a cleaner and healthier planet. They believe that every small step towards sustainable transport matters and are committed to leading by example.
Reduced Carbon Footprint
Ride1UP's electric bikes provide an eco-conscious transportation alternative with notably reduced carbon emissions compared to gas-powered vehicles. Opting for a Ride1UP e-bike presents an opportunity to actively participate in lessening your environmental impact. Adopting an e-bike for transportation reflects a deliberate decision towards a more environmentally sustainable future.
Energy Efficiency
Ride1UP places a strong emphasis on efficiency in the design of their electric bikes. They aim for optimal power usage while being mindful of environmental resources. Through the incorporation of innovative technology, Ride1UP facilitates extended travel distances while maintaining responsible energy consumption practices.
Alternative to Cars
Ride1UP's electric bikes provide a practical and environmentally conscious option for transportation. Choosing their e-bikes allows for streamlined commuting, avoiding traffic and parking issues associated with cars. These bikes also contribute to reduced energy consumption and a more sustainable transportation solution.
Health and Wellness Benefits
Utilizing an electric bike like Ride1UP's presents a range of advantages, encompassing environmental and personal well-being aspects. Opting for Ride1UP means embracing the dual benefits. Apart from the thrill of cycling, you gain health advantages. With a Ride1UP e-bike, you can engage in physical activity, relish the outdoors, and breathe in fresh air. This provides an opportunity to seamlessly integrate exercise into your daily routine while exploring your surroundings.
Packaging and Materials
Ride1UP places a significant emphasis on waste reduction and environmental accountability. They actively pursue the use of eco-friendly packaging materials whenever viable, showcasing their unwavering commitment to sustainability. This commitment is deeply embedded in their supply chain. Their focus is on diminishing their ecological footprint while maintaining a consistent practice of environmentally responsible decision-making.
Promoting a Sustainable Lifestyle
Ride1UP advocates for an environmentally-aware way of life by promoting eco-friendly decisions that go beyond their e-bikes. They aim to motivate individuals to adopt sustainable practices in various facets of their lives. Ride1UP firmly believes in the value of modest steps. These include waste reduction, energy conservation, and thoughtful choices that collectively contribute to the planet's well-being.
User Reviews
This article aims to include authentic user feedback to substantiate the features offered by Ride1UP. The brand maintains a strong average rating of 4.6 out of 5 stars, derived from 648 Google reviews. This indicates a favorable response from users who have purchased and experienced Ride1UP's e-bikes. Now, let's examine both the positive and critical perspectives surrounding this brand.
Positive Reviews
Users have positively praised Ride1UP's e-bike models for their impressive performance and comfort. They also commended noteworthy models like Cafe Cruiser, Core 5, and 700 Series, for delivering smooth rides across diverse terrains.
These e-bikes have proven to be dependable options for daily commutes and extended adventures. Their reliability in terms of battery life and robust power assistance is attributed to their performance. Users find them suitable for effortlessly covering various distances, making them a cost-effective choice.
Users have also highlighted Ride1UP's responsive customer service, with their support team promptly addressing issues and providing assistance. This comprehensive approach to performance, reliability, and customer support contributes to Ride1UP's unique appeal.
Negative Reviews
While Ride1UP's e-bikes have garnered acclaim, some customers have reported encountering challenges. Some riders experienced technical issues shortly after receiving their e-bikes, including motor malfunctions or non-operational parts. These issues prompted concerns about the overall quality and performance of the bikes.
In a couple of cases, customers expressed frustration regarding customer service response times and delays in obtaining replacement parts. They also mentioned initial shipping and assembly hiccups, which caused minor setbacks and raised questions about packaging and component checks.
---
Ride1UP Reviews:
---
Name/Nickname: Gene

After many hours of research and reviews, I decided on the Ride1Up 500 electric bike. Very happy. Fast shipping. Great quality frame. Comfortable seat and grips. Capable of 28 mph with pedal assist. Ordered with rear rack and fenders. Fenders fit perfectly. Rack is very strong (holds over 50 pounds).

Buy this bike and you won't be disappointed.
Name/Nickname: Kelley

My husband and I recently purchased our new Ride1up 700 Series bikes and we LOVE them! We have had ebikes before but these are the best we've riden. They are very comfortable and fit us perfectly. Dan is 5'11 and I am 5'4 so his XR and my ST are just right. They are fast, responsive, smooth and well designed. 2 day FedEx shipping to Maui for under $200 is very reasonable. Customer service has been professional and prompt. I love my Ride1up panniers, too. We highly recommend Ride1up!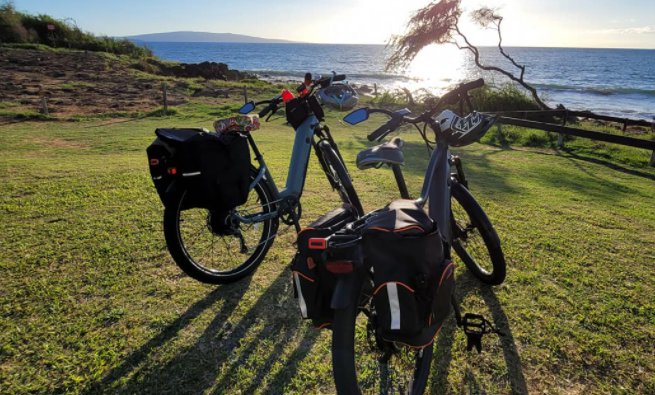 Name/Nickname: Michael

I got the Stealth – what a great bike! The 5 electric boost speeds work like gears, the drive belt works very well, brakes are strong and smooth. I modified the bike with swept back handlebars and riser for a more relaxed ride, as well as a mirror to look back at people I passed by… The people at Ride1up were quick and thorough and friendly in responding to my questions, overall a great experience!
Name/Nickname: Justin

I ordered a bike at the end of 2020 it just delivered this week and I was provided with a bike that has the wrong color. Support has been helpful in resolving my issue ASAP. I had my correct bike within two days. Was pretty easy to build, and so much fun to ride. Took it for a 12 mile ride and barely dented the battery. Very happy with my Purchase.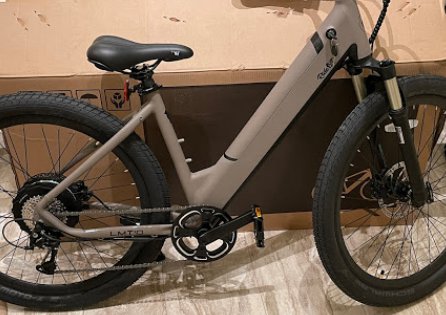 Name/Nickname: Kenzi

Ride1up is a great value for what you get I purchased a LMTD bike and I love it.I initially had some issues with the bike which I was able to resolve.The only thing I would like from Ride1up is that they have either a mobile service to help with customer issues or installs.I know rad power bikes does this because it is frustrating to deal with issues and no place to go other than a local bike shop which is a hit or miss.It can be a hit or miss because they may not know how to work on that particular type of electric bike like the manufacturer would. Other than that I'm happy with my purchase.
Name/Nickname: Jesse

Recently bought a Ride1UP 700 XR and its great. Dealing with support has been amazing too (I was a bit of a pain before buying and they held my hand along the way). Happy to be a Ride1UP owner and have confidence in the company and their support team should anything ever come up. Would def. recommend them.
Name/Nickname: Michael

Great bike, great price, superb service. Great bike to into electric bikes. Works great for street and trails. I even made a setup to carry my golf clubs on the course. Ride it to the course, leave my car at home. Great way to explore your neighborhood.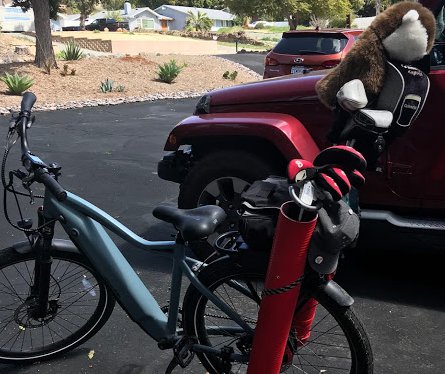 Name/Nickname: Keith

I dig Ride1Up's whole approach and philosophy. Beautiful designs, affordable prices, high value, customer driven. And with a warehouse in Sparks, Nevada, might there be Burning Man connection? I compared a lot of bikes, and at my price point, nothing compares. My wife bought one, too.
Name/Nickname: Scott

What can I say about the Roadster V2? It is a whimsical, carefree magical bike! I own a more powerful fat tire bike but it is a beast to ride. The Roadster shines in the take me out and ride me now. It begs and pleads with you to go for a ride. If you buy this bike there is no doubt in my mind you will fall in love with it.I waited a month and 50 miles to write this review and I am totally satisfied even having to change a flat on the rear with the belt drive and motor. It is time consuming but pretty straightforward. I also have lost PAS from the motor a couple of times but doesn't really seem to be an issue for me. This was the Ebike I have been waiting for and I am 60 years old and it makes me feel like when I was 14 years old riding my bike to every destination imaginable and loving every minute of it. Some might think that is worth a million dollars not one thousand.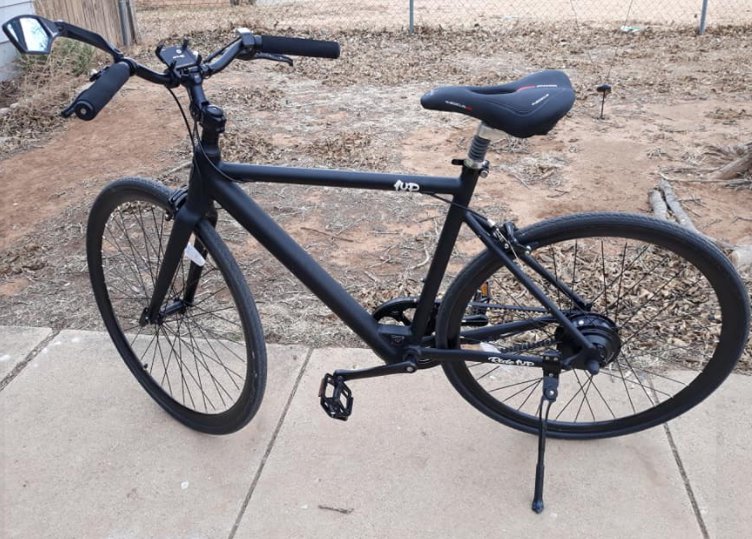 Name/Nickname: Lori

We ordered an ebike last year for my husband and he's been beyond pleased with it. I ordered one for me last week from the open box site and received it within a week. The box was heavily damaged so I took pictures and brought it to a bike shop. They found the rear derailleur was damaged and had to be replaced. I contacted the Ride1up customer service and they refunded me the cost of the part and labor. The bike is fun to ride and I couldn't be happier with it. They are a great company to deal with. Would recommend them to anyone.
Name/Nickname: Sherry

Searched several ebikes before making the purchase.Found the R1Up and decided it was the best value for money.Bought it for my 50th birthday and have been in love ever since!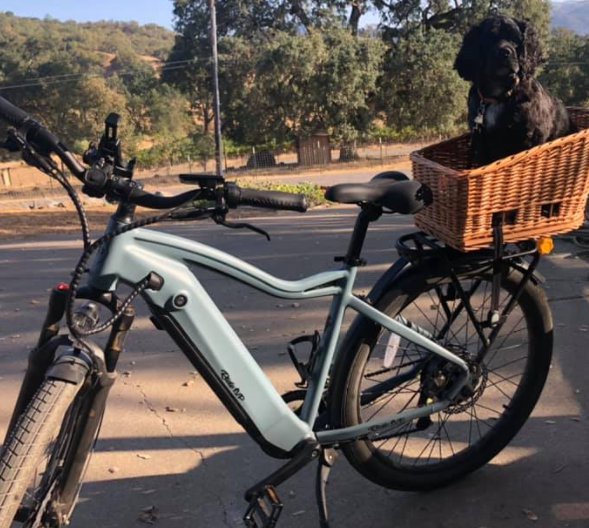 Name/Nickname: Sean

Totally impressed. Bike is gorgeous, solid, well-built, easily assembled. The one problem we had was dealt with head-spinningly fast. Support was very quick to respond and the responses were immediately on-target and useful. I would recommend in a heartbeat.
Name/Nickname: Molly

My husband and I have 2 Ride 1 Up 500s, one step through for me and a MTB for him. We are campers and have loved using the bikes as transport around the campsites as well as the many trail rides at many of the parks and places we visit. Our black lab also loves to run the trails with us. Quick trips to the store are much more fun on the bike then the truck and the pannier bags allow a large haul. My husbands bike came with the spoke issue, our local REI made the repair and Ride 1 Up reimbursement us and was great about helping us. Both bikes were checked out by REI to include some adjustments and test ride. The test ride most of gone well as they reported loving the bikes and would not charge us for looking at eather bike. My husband has over 1000 trouble free miles and I have just loved mine. The Step through is key for me as I am 5 foot 3 and needed to be able to step off the seat to the ground easily and it works great. My husband and I have had the opportunity to ride other brands and we are very happy we went with the 500. We (he really) has ridden the bike hard and have only returned home with smiles and no complaints. I recomend Ride 1 Up and at this point can't understand needing more motor or battery we can't seem to kill the battery or want any faster or quicker operation. A great Bike.Oh, when crossing at a light, how cool is it to zoom through the intersection with the throttle and not powering across in a made frenzy. Molly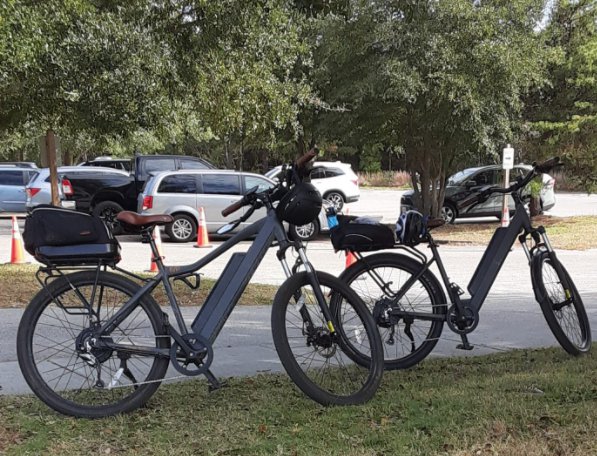 Name/Nickname: Alex

I love the core five! I've had it for a couple of weeks now and it's been fantastic. Their customer service is also top-notch!!!
Name/Nickname: John

We looked at several different bikes and settled on the Ride1Up mainly because it is assembled in America. We got the bikes in June and LOVE them. The bikes were easy to assemble and only minor adjustments were necessary after putting them together. We ride all over Colorado and have had zero problems. We took the bikes to South Padre, Texas and rode the beach for several miles. I highly recommend Ride1Up. Absolutely excellent quality and ride.
Name/Nickname: Brian

I did a lot of research and tried several types of e-bikes before this purchase. The 500 series bike from Ride1 UP is the perfect fit for my needs. You can't beat the quality and level of components for the price. The support from Ride1 UP has been awesome. I had had one minor issue during shipping and Ride1 UP resolved it right away. This bike lets me cruise down the road at 30 mph and play in the desert on single and double tracks… all in the same ride. I love this bike!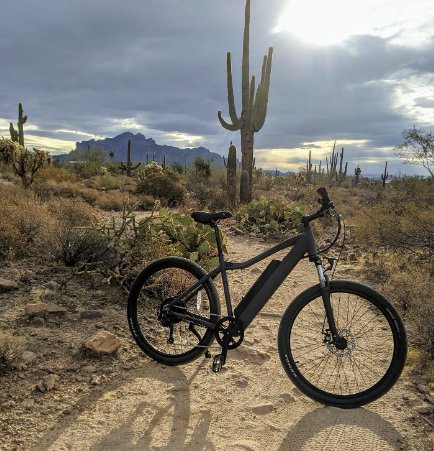 Final Verdict
Ride1UP stands out as a prominent e-bike manufacturer. They offer a versatile range of meticulously designed models that elevate the cycling experience. Their philosophy centers on achieving a delicate equilibrium between affordability and exceptional quality. This is evident through their deliberate use of premium components to ensure high performance within budget constraints.
Although a minority of users noted occasional technical issues, most customers praised Ride1UP for delivering comfort, reliability, and responsive customer service.
Ride1UP's dedication to preserving the environment is clearly demonstrated through its efforts to decrease carbon emissions and encourage energy-efficient transportation. Compared to convetional vehicles, Ride1UP ebikes fosters a healthier lifestyle by combining physical activity with outdoor exploration.
In summary, riders joining Ride1UP's cycling journey can access diverse features that would enrich their e-biking experience. They can also become part of a movement that values innovation, affordability, satisfaction, and a commitment to a healthier planet. This comprehensive package makes Ride1UP an appealing choice for those seeking a holistic and fulfilling e-biking experience.
---
Ride1UP Coupon Codes & Deals:
CLICK ➤ Up to $200.00 off Ride1Up Ebikes Discount (Limited time offer)
CLICK ➤ 5% off Ride1Up Ebikes Discount
---
CLICK ➤ $30.00 OFF Coupon Code (Click, join email list and get unique 1st order code on email box)
---
Post your review about Ride1UP electric bikes in comment section below or send to us via contact form.