Are you tired of amateur-looking videos that fail to captivate your audience? Then you'd be interested in the FlexClip Video Editor, a new editing tool that promises to breathe life into your creations. In this comprehensive FlexClip review, we'll delve deep into the features and capabilities of this video editor and explore how it can help you create better videos.
Whether you're a seasoned content creator or a novice filmmaker, join us as we examine FlexClip Video Editor and see if it can live up to its promise of elevating your videos to a whole new level of professionalism.
FlexClip Video Editor Overview
If you're in search of a powerful video editor that's easy to use, then FlexClip is definitely worth checking out. The FlexClip video maker is designed for both professional and personal use, and offers a range of features that help users create stunning videos without the need for any advanced editing skills.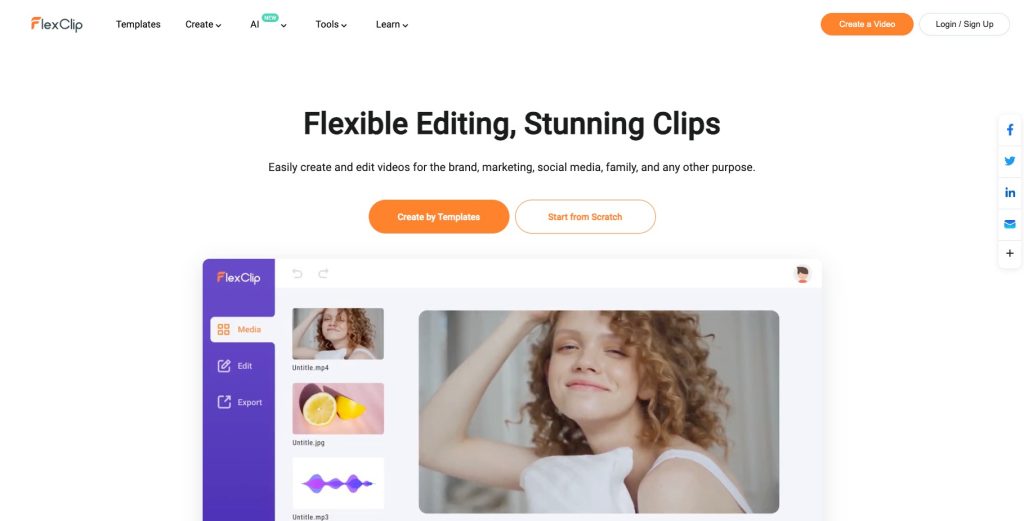 FlexClip Video Editor boasts a user base of over 10 million individuals, with 2 million registered users and 5 million video downloads. It's a creation of PearlMountain, a company specializing in Graphics & Multimedia software since 2016.
Since 2006, PearlMountain has maintained a dedicated R&D team focused on multimedia. This commitment has resulted in the creation of popular products such as RecordCast, DesignEvo Record Maker, and FotoJet. These are known for their user-friendliness, reliability, and global performance.
FlexClip Video Editor Features
FlexClip provides a user-friendly interface suitable for a wide range of users. It caters to content creators and marketers alike, simplifying the process of crafting engaging videos. Its design accommodates various industries, enabling the effortless production of YouTube content or promotional material.
The platform includes features for professional video editing, such as trimming, splitting, merging, and customization. It provides access to a broad media library with royalty-free visuals and audio, enhancing creative possibilities. Additionally, the cloud-based architecture guarantees seamless access across devices. This establishes FlexClip as a reliable tool for efficient video editing and creative exploration.
FlexClip's standout feature is its innovative AI integration, simplifying tasks like text-to-video, voiceovers, script generation, image creation, and automated subtitles. This fosters creativity and streamlines processes for content creators, marketers, and educators.
AI Integration in Video Creation and Editing

AI Text-to-Video

The AI text-to-video tool harnesses the power of Google Cloud Text-to-Speech and Vision API. It transforms text into customized videos through a range of templates and styles, enhancing efficiency in content creation. The tool accommodates more than 100 languages and produces videos in formats such as MP4, MOV, and AVI. It supports video lengths of up to 10 minutes, providing versatile options for content creation.
This feature simplifies video creation for content creators by eliminating the need for complex editing software and leveraging AI technology.
AI Text-to-Speech

The AI text-to-speech feature, powered by Google Cloud Text-to-Speech, converts written text into natural-sounding speech seamlessly. Users input text, select from various voices and languages, and AI generates high-quality speech files for videos.
Benefits encompass professional voiceovers, eliminating the need for personal recording. FlexClip provides robust multilingual support with a wide selection of over 100 voices available in 26 languages. Additionally, it supports various file formats including MP3, WAV, and OGG, accommodating files of up to 10 minutes in duration.
This AI feature enhances videos with multilingual, natural-sounding voiceovers, offering an efficient and engaging solution for creators.
AI Video Script

The AI video script feature, powered by ChatGPT AI chatbot, revolutionizes script generation for diverse platforms, from YouTube to TikTok, Instagram Reels, Facebook, and promotional videos. It crafts compelling titles, engaging narratives, and effective conclusions, tailored to captivate audiences and drive engagement.
Entering prompts like "Craft a captivating YouTube title for a home abs workout video" generates multiple potential titles for users. They also have the ability to specify the desired video duration, enabling precise and tailored script generation.
This AI-powered tool simplifies script writing, relieving creators of brainstorming and ensuring consistent, quality content, enabling greater visual creativity.
AI Image Generator

FlexClip offers an impressive AI image generator feature, utilizing advanced AI technology powered by Stable Diffusion. This web-based tool enables users to generate images from text prompts, spanning styles like avatars, illustrations, and marketing materials. It covers a diverse range of visual content creation. Users input prompts and AI generates image options, customizable in style and aspect ratio, simplifying the selection process.
The AI image generator streamlines image creation, nurturing creativity with unique AI-generated visuals.
FlexClip's AI image generator is freely accessible, supporting 17 styles and aspect ratios (1:1, 4:3, 16:9), with images up to 1200×1200 pixels.
AI Auto Subtitle

The AI auto subtitle feature employs Google Cloud Speech-to-Text to facilitate seamless subtitle creation for multilingual videos. Users upload a video, receive an AI-generated transcript, and can refine it for precision. The tool then generates subtitles from the edited transcript, streamlining the process compared to manual transcription.
This feature enhances accessibility for diverse audiences, particularly benefiting those with hearing impairments. It accommodates 100+ languages and diverse subtitle formats (SRT, VTT, TXT), catering to a broad audience of viewers.
This feature facilitates seamless subtitle integration, broadening the audience across languages and promoting an inclusive, engaging viewing experience.
AI Background Remover

Powered by Google Cloud Vision API, the AI background remover efficiently extracts image and video backgrounds, providing a robust solution. Users can upload their media, leaving AI technology to handle the rest. The feature offers transparent, solid color, or custom image backgrounds, enhancing the visual appeal of content creation.
This streamlined feature removes backgrounds, accommodating diverse creative needs. For accurate results, however, it is advised to use clear, well-lit media, particularly with simple backgrounds.
Subscription Plans and Pricing

The platform provides three subscription plans designed to accommodate users and businesses with diverse requirements and budgets. You can choose an annual subscription in any of the premium plans instead of monthly for up to 50% savings.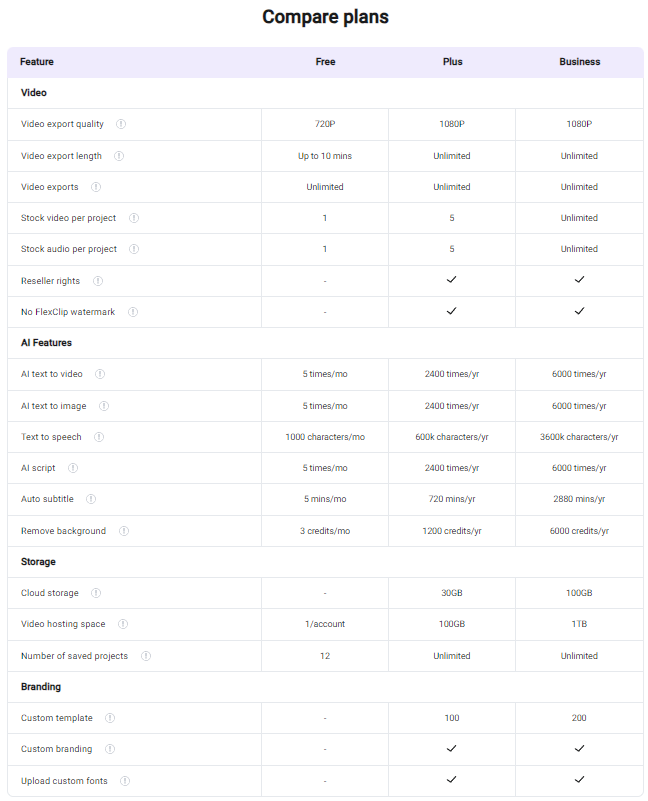 Free Plan
The Free Plan is suitable for individuals exploring FlexClip features before opting for a paid subscription.
It encompasses 720p HD downloads, offers 1 stock video and audio per project, permits a maximum of 12 projects, and accommodates videos up to 10 minutes in length. However, the AI functionalities are more restricted in comparison to the paid plans.
This plan is well-suited for those aiming to create straightforward videos for personal use.
Plus Plan
The Plus Plan, priced at $9.99/month with annual billing, provides a wide range of features. This package is especially beneficial for those seeking a comprehensive set of tools.
This plan encompasses all-inclusive 1080p Full HD downloads, provides 5 stock videos and audio per project, offers unlimited video exports and export length, permits unrestricted online project saving, allows video lengths of up to 30 minutes, removes the FlexClip watermark, offers 30GB cloud storage, provides 100GB video hosting space, and supports custom branding. In comparison to the Free plan, the platform significantly expands the usage frequency of all AI features.
This plan is highly suitable for both businesses and individuals with frequent requirements for producing top-quality videos.
Business Plan
The Business Plan, at $19.99/month with annual billing, caters to multi-user video creation requirements for businesses.
It encompasses all the features present in the Plus Plan while introducing enhanced capabilities, including unlimited stock videos and audio per project, an increased cloud storage capacity of 100GB, 1TB video hosting space, and access to 200 custom templates. A significant enhancement lies in the substantial elevation of AI feature access limits compared to the Plus Plan.
This plan is particularly advantageous for businesses engaged in frequent video production or requiring video sharing among multiple stakeholders.
Team Plan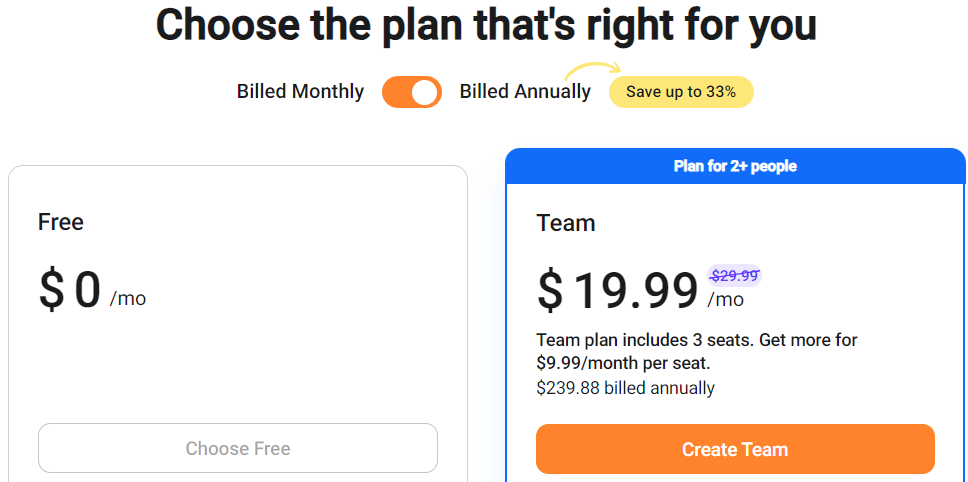 The Team Plan extends access to a wider group, including video creators, family, friends, or co-workers. It provides full access to FlexClip's premium features.
Opting for an annual subscription rather than a monthly one can result in savings of up to 33%. The initial three seats of the Team Plan begin at $19.99/month, with each extra seat priced at $9.99/month. Each seat enjoys complete access to all features found in the platform's Business Plan.
This option is suitable for those seeking comprehensive access to FlexClip Video Editor's premium features at a reduced monthly rate.
with a paid subscription, enhancing the visual appeal and professionalism of the final video products.
User Reviews
It's a good idea to see what users are saying about FlexClip to gauge how well it meets their needs. We took a look at reviews on reliable platforms like Capterra and Trustpilot, with a sizable number of reviews. Most users seem to like the video editor, giving it solid overall ratings of 4.4 and 4.5 out of 5 stars on Capterra and Trustpilot respectively.
Positive Reviews
User-Friendly Experience
FlexClip's design features a user-friendly interface and intuitive navigation, which are especially appealing to individuals new to video editing. The platform's drag-and-drop functionality, clear labeling, and straightforward tools contribute to improved accessibility. These features provide beginners with the confidence to effectively initiate and manage their video projects.
Template Variety and Media Collection
FlexClip offers a wide range of templates, backgrounds, and music options. Users appreciate these multimedia assets for efficiently creating high-quality videos with a professional touch.
Harnessing Cloud Technology
FlexClip operates as a cloud-centric platform, facilitating easy project access from various locations. This fosters collaboration among teams and reduces the reliance on local storage resources.
Economical Proposition
Users recognize FlexClip as a cost-effective choice among video editing applications. They commend its balanced approach in offering a variety of features alongside affordable pricing. This caters to budget-conscious users and those seeking comprehensive functionality.
Empowerment through AI
The inclusion of AI-powered features in FlexClip is considered a significant aspect. Users show favor towards particular functions like the AI text-to-video tool and automated subtitling, underscoring their utility. These AI-driven capabilities enhance platform efficiency by simplifying tasks and providing innovative solutions for video creation and editing.
Accelerated Video Crafting
FlexClip efficiently combines streamlined processes with diverse pre-designed elements, significantly expediting video creation. Its rapid video generation is particularly praised for time-sensitive situations, resulting in an optimized workflow.
Negative Reviews
Advanced Editing Tools
Some users note that FlexClip lacks advanced editing features like keyframing. These features are desired for more intricate video projects. Enhancing these aspects could broaden the platform's capability for more complex editing needs.
Limitations in the Free Version
User feedback underscores limitations in FlexClip's free version regarding video storage, duration, and watermarking. Addressing these constraints could enhance user experience. Offering increased storage, longer video durations, and more watermarking options would better align the platform with diverse needs.
Offline Availability
FlexClip's cloud-based design requires an internet connection for access and editing, offering remote accessibility and collaboration benefits. However, some users seek offline capabilities to ensure uninterrupted access and editing, particularly in situations with limited connectivity. An offline mode would provide seamless access and address this need for convenience.
Speed and Performance Refinement
Despite the generally positive feedback, some users have noted occasional performance issues and extended loading times in FlexClip. Improving platform responsiveness is crucial for a smoother user experience. It boosts satisfaction and reinforces FlexClip's reputation as a dependable video editing solution.
Enhanced Asset Management
Some users want better asset management, including improved access and reuse of assets across projects in FlexClip. Enhancing these features can optimize workflows, helping users efficiently organize and utilize their creative resources.
Amplified Customization and Control
While FlexClip offers commendable customization, some users desire more control over specific video elements. These include transitions, animations, and audio effects. Enhancing editing controls could cater to advanced users, allowing finer adjustments and greater creative precision.
FlexClip Review: Final Verdict
Have you started contemplating FlexClip as your primary video editing tool? Furthermore, in what ways can FlexClip improve video creation and editing using AI? This review should now provide you with the answers you seek.
FlexClip revolutionizes video creation and editing with AI-driven tools, automating tasks like subtitling, transitions, and content suggestions. It streamlines editing, offers personalized voiceovers, and provides real-time analytics. AI-enhanced asset management, user-tailored suggestions, and automation refine the process. FlexClip's AI integration enhances efficiency and customization, transforming video creation.
In addition to its AI capabilities, FlexClip is praised for its user-friendly design, particularly beneficial for beginners. Moreover, FlexClip is widely considered cost-effective, offering ample features to satisfy the requirements of most video editors.
However, user feedback also underscores certain limitations of FlexClip. These include the lack of advanced features, Free Plan restrictions, internet dependency, and limited asset management and customization. Addressing these could enhance the platform's suitability for the needs of more seasoned video editors.
Nevertheless, FlexClip provides an attractive choice for video editors seeking an AI-powered platform that enhances creativity and seamlessness. With continuous AI technology advancements, FlexClip remains an innovative frontrunner. This promises a bright future for users seeking intuitive video editing.
---
FlexClip Coupon Code & Deals:
---
CLICK ➤ 30% Off FlexClip AI Video Editor – Use code FCAI30
---
CLICK ➤ 10% Off Any FlexClip Video Editor Plan – Use Code FLEXCLIP10
---
Post your own FlexClip review in the comment section below. Or send to us via the contact form!