Are you tired of regular gym fees and inconvenient workout schedules? You're likely in the market for PROIRON Fitness, a home gym equipment brand that promises to transform your workouts. They offer a wide array of products, ranging from weightlifting to yoga, Pilates, endurance training, and outdoor activities. With their state-of-the-art products and innovative designs, PROIRON Fitness offers a convenient and efficient way to achieve your fitness goals from the comfort of your own home.
PROIRON Fitness understands the importance of a well-rounded workout routine, which is why they offer a wide range of equipment to target different muscle groups. Whether you're a beginner or an advanced athlete, their high-quality machines cater to all fitness levels. From treadmills and ellipticals to weight benches and dumbbells, PROIRON Fitness has everything you need to create your own personal gym.
But what sets PROIRON Fitness apart from other home gym equipment brands? In this review, we'll first explore PROIRON's diverse product lineup. Then, we explore into the real user experiences and potential limitations with their fitness gear.
PROIRON Fitness Overview
Established in 1997, PROIRON's core mission is to offer high-quality fitness gear and encourage an active lifestyle among enthusiasts. Over the years, they have successfully expanded their reach, spreading their fitness influence to more than 50 countries worldwide.
In 2002, PROIRON Fitness introduced their neoprene dumbbells, which stood out for their quirky resemblance to macarons. These dumbbells boasted a comfortable textured coating that greatly improved grip during workouts.
PROIRON also prioritizes the use of materials that are environmentally friendly throughout their manufacturing process. Furthermore, PROIRON subjects its gear to rigorous testing conducted by independent organizations like SGS and INTERTEK. This practice serves to maintain impeccable standards and ensure the utmost product safety and quality.
PROIRON Fitness equipment Product Portfolio
PROIRON offers a range of fitness gear:
Weights. They provide options like dumbbells, weight plates, and barbells, suitable for strength and endurance training.
Yoga and Pilates. PROIRON also offers fitness gear designed for yoga and Pilates, catering to those focusing on flexibility, balance, and core strength.
Fitness Accessories. Additionally, the brand has various fitness accessories to enhance your workouts and ensure safety.
All PROIRON products are accompanied by the following guarantees:
Free shipping for orders exceeding £39.99 within the UK.
30-day money-back guarantee.
15% discount on first orders when customers subscribe to PROIRON.
Multiple secure payment options.
Weights Equipment
PROIRON offers a range of weight equipment designed to help improve your strength and build muscle.
Dumbbells

PROIRON offers a variety of dumbbells designed for strength training. These versatile hand-held weights come in different types – hex, neoprene, and cast iron adjustable. What sets PROIRON's dumbbells apart is their durability and comfortable grip, featuring metal handles and non-slip coatings. You can select the right weight for your needs, with options ranging from 1 kg to 24 kg per dumbbell. Additionally, PROIRON offers eco-friendly neoprene choices for environmentally-conscious users.
Kettlebells

Kettlebells, resembling cannonballs with handles, are versatile workout tools. PROIRON offers durable and comfortable options in materials like cast iron, PVC, or iron, ensuring safety and stability during exercises.
Barbells

PROIRON provides barbell components for creating your own essential fitness tool. These include long metal bars and solid cast iron weights, offering durability and suitability for compound exercises. Additionally, they offer EZ and SZ curl bars for flexible workout options.
Other Weight Accessories

PROIRON offers various accessories to enhance your weightlifting and fitness sessions. These include:
Adjustable weighted vest (0 kg to 10 kg). It adds comfort with a leak-proof design.
Anti-slip lifting straps. These enhance your grip for different exercises.
Ankle/wrist/leg weights. They offer comfort, adjustability, and reflective trim for outdoor safety.
Barbell pad. This provides cushioning and protection for squats and heavy lifting.
Multi-layer weight rack. Built with heavy-duty steel, it efficiently organizes your weights, ensuring a tidy workout area and smooth transitions.
Yoga and Pilates Equipment
PROIRON provides yoga and Pilates gear designed for comfort, durability, and versatility. These tools help enhance flexibility, support recovery, and promote relaxation in those seeking holistic well-being and fitness.
Yoga Mats

PROIRON offers a variety of yoga mats for enthusiasts.
The folding exercise mat, designed for convenience, folds compactly and provides firm support with high-density foam, maintaining an eco-friendly profile.
The non-slip Pilates foam mat offers an extra-large, slip-resistant surface for Pilates.
The standard yoga mat, in two sizes, is eco-friendly PVC with non-slip properties.
The interlocking exercise mat serves to protect floors, create a soft exercise surface, and ensure easy assembly. This is suitable for various workouts, including those with children.
Exercise Balls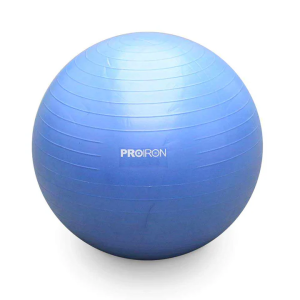 PROIRON offers the Fitness Yoga Ball, a versatile exercise accessory known for its anti-burst properties, ensuring user safety during workouts. It features a non-slip surface for enhanced stability during exercises. The brand also includes a hand pump for effortless inflation, making it a practical addition to your fitness equipment collection.
Exercise Bands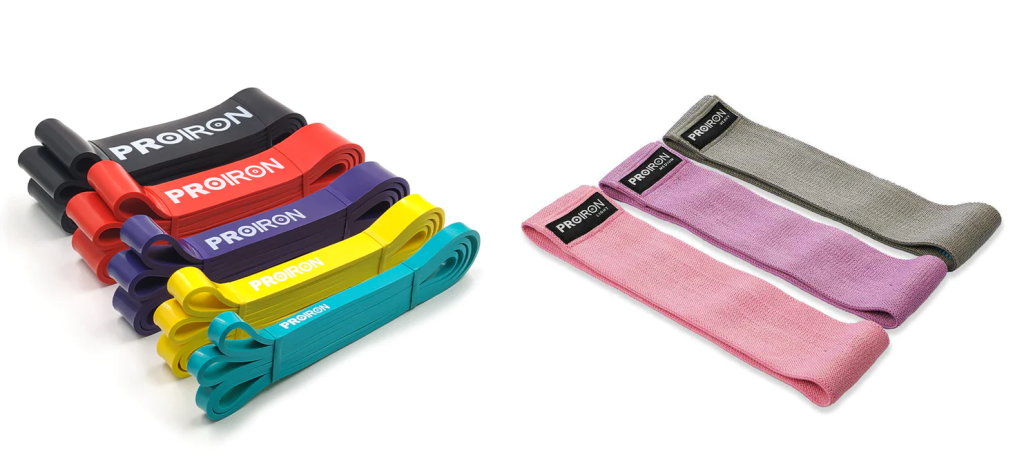 PROIRON offers a versatile range of exercise bands, commonly known as resistance bands, to enhance your fitness regimen.
PROIRON offers assisted pull-Up bands with color-coded resistance levels. Made from natural latex, these bands are ideal for assisting with pull-ups and stretching exercises. These equipment assist users in gradually achieving unassisted pull-ups.
Meanwhile, the fabric resistance band is available in three resistance levels, and it's made from durable fabric. This is suitable for various muscle-strengthening exercises like squats, lunges, and leg lifts. It can be a valuable addition to your workout routine to increase the effectiveness of specific muscle group targeting.
Massage Ball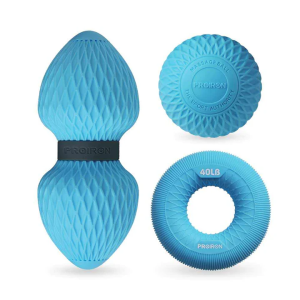 PROIRON's 3 IN 1 Massage Ball Set provides portable tools for muscle tension relief and trigger point therapy. This set includes peanut and lacrosse balls with pain relief textures, along with grip rings to promote muscle recovery and improve strength.
Other Fitness Accessories
PROIRON also offers a wide range of fitness accessories to meet various workout needs, especially convenience and safety.
Outdoor Accessories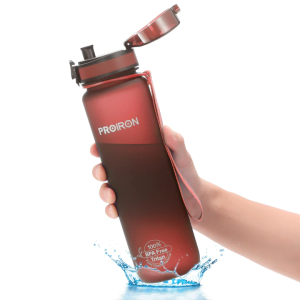 In this section, PROIRON offers a BPA-free sports water bottle that combines practicality and convenience.
This bottle is designed with a leak-proof feature and crafted from premium TRITAN plastic for safe hydration. It also includes a protein shaker ball, making it versatile for outdoor activities.
Machinery and Equipment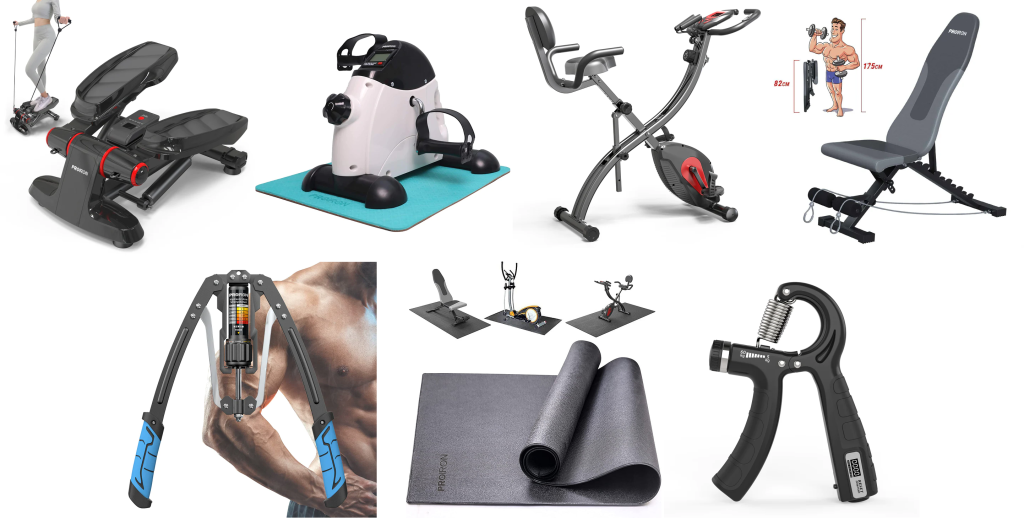 PROIRON understands the importance of having the right equipment to boost your fitness routine. They offer a variety of fitness gear, including:
Upgrading Cardio Workouts. If you're into cardio, they have compact mini hydraulic stepper with an LCD monitor, anti-slip pedals, and noise reduction. There's also the portable mini bike-pedal exerciser with adjustable resistance and progress tracking. Lastly, the Indoor Stationary Folding Bike offers ergonomic seating and 8-level magnetic resistance for customized workouts.
Building Strength and Muscles. Their Fitness Foldable Workout Bench provides stability, adjustability, and space-saving design. Meanwhile, the Twister Arm Exerciser is great for working upper body muscles with adjustable hydraulic resistance.
Boosting Hand and Forearm Strength. Check out the Hand Gripper with a Digital Counter that helps improve hand and forearm strength while promoting circulation.
Protecting Your Workout Space. PROIRON's Floor Protection Mat is made from non-toxic PVC foam, reducing noise and vibrations. This ensures a comfortable workout area, and prolonging equipment life.
Skipping Rope and Hula Hoop

These accessories suit different fitness levels, offering cardio workouts and coordination improvement.
Digital Cordless Skipping Rope. It prevents injuries with its cordless design and a smart counter.
Weighted Adjustable Skipping Rope. It adds muscle-building benefits.
Hula Hoop. It comes in two weight options for enjoyable calorie-burning workouts.
Soft Beaded Skipping Rope. It is perfect for beginners and kids with its tangle-free design.
Core, Abdominal and Chest

PROIRON provides tools for core, chest, and abdominal muscles, suitable for both beginners or experienced fitness enthusiasts.
Ultra-wide Ab Roller Wheel. This tool is designed for stability, with an extra-wide wheel and comfortable, non-slip handles. It also includes a knee pad for added protection.
Automatic Rebound Ab Wheel. This innovative roller provides real-time exercise feedback. It has sturdy springs, a wide wheelbase, and a non-slip design to enhance your abdominal workouts.
Ab Roller with 360° Wheels Rotation. Engage multiple muscle groups with this 360° movement tool. It's compact, easy to use, and features anti-skid handles and thick foam pads for support.
Push Up Bar Stands with Non-Slip Foam Grip. These bars are ideal for targeting your chest, shoulders, and triceps. With a 15-degree tilt, supporting up to 300kg, and non-slip foam handles, these bars reduce wrist pressure during workouts.
Boxing and Martial Arts

PROIRON offers a range of boxing and martial arts accessories to meet the needs of enthusiasts:
Thai & MMA Kick Pads. These durable pads effectively absorb heavy blows with multi-layered shock-absorbing foam and sturdy PU leather. They come with a secure gripping handle, adjustable armband, and a thick 20mm wrist pad for safety during striking practice.
Boxing Reflex Ball. A versatile multi-ball set suitable for martial artists of all ages. It includes 2 adjustable headbands and 3/4 balls with variable weights for customized training. Safety is a priority, with protective glasses included.
Boxing Hand Wraps and Bandages. Essential for hand protection in boxing and martial arts. These wraps offer comfort with high-quality, slightly elastic material, a secure 5cm Velcro closure, and come in two sizes (2.5M for smaller hands and 4.5M for various martial arts enthusiasts).
Support, Health and Protection

In the world of fitness, safety is a top priority, and PROIRON understands this well. They offer products that prioritize your safety:
Knee Support With Side Stabilizers. This product offers strong knee support, reducing injury risk during intense workouts by providing stability and protection for your knees.
Strong Support Lower Back Belt. Perfect for weightlifting and exercises that stress the lower back, PROIRON's belt provides stability and protection. This helps prevent lower back strain and potential injuries.
Ankle Support Brace with Adjustable Wrap Strap. This brace protects your ankles during various workouts, such as running, jumping, and agility exercises, preventing injuries and ensuring security.
User Feedback
Establishing trust in the PROIRON brand is vital when considering fitness equipment purchases. Thus, real user feedback is essential in this regard.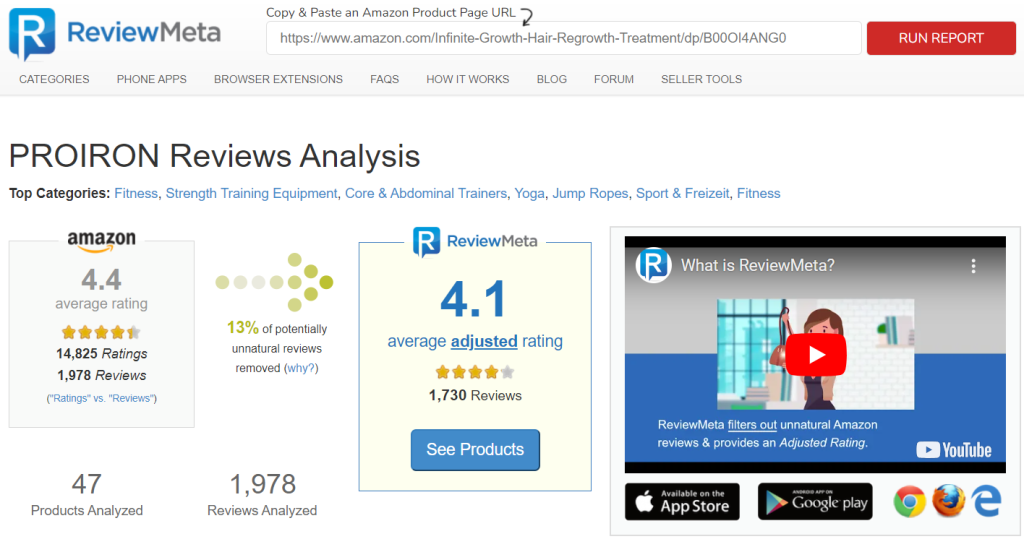 PROIRON has received widespread praise for its diverse range of fitness equipment. This is evident with an impressive 4.1 out of 5-star rating based on 1,730 reviews from ReviewMeta. This overall positive reception clearly demonstrates the quality, reliability, and effectiveness of PROIRON's fitness equipment offerings.
Potential Limitations
While PROIRON enjoys positive reviews and ratings, it's important to consider potential downsides when assessing their fitness gear:
Varying Quality. Like many brands, PROIRON's products can have quality differences, leading to durability or manufacturing issues for some users.
Limited Range. PROIRON might not offer as many options as bigger brands, limiting choices for those wanting a wider selection.
Availability. Depending on where you are, it might be hard to find PROIRON products locally or online.
Customer Support. The quality of customer service can vary, causing delays or issues in getting help or handling warranties.
Pricing. PROIRON products might be pricier than alternatives, not fitting all budgets.
Limited Innovation. Smaller brands like PROIRON might not introduce as many new features as larger ones.
Research and Development. Smaller brands might have fewer resources for developing new fitness equipment.
Final Verdict on PROIRON Fitness Equipment
When considering PROIRON for your fitness equipment needs, it's important to weigh your specific fitness goals and budget. PROIRON has received positive feedback from users, which reflects its commitment to producing effective and quality fitness gear. This suggests that if their product lineup aligns with your requirements, choosing PROIRON can be a sensible decision.
However, one key consideration is the availability of PROIRON products, which may vary depending on your location. Their official website primarily serves customers in the UK, which could be limiting for those outside this region. To overcome this limitation, consider checking out online resellers. However, keep in mind that shipping costs can substantially affect the total expense of your purchase depending on the source.
Looking forward, it's essential to acknowledge the ever-evolving nature of the fitness equipment industry. Technological advancements continue to reshape the way we approach fitness, with innovations aimed at improving form and overall well-being. PROIRON must stay ahead of industry trends, adapting to evolving fitness demands, to remain a relevant player in this field.
---
PROIRON Fitness Discount Code & Deals:
---
CLICK ➤ 5% Off PROIRON Fitness Coupon – Use code REVIEWISHERE
---
CLICK ➤ Subscribe to PROIRON Fitness to get 15% off discount
---
Post your review of PROIRON Fitness Equipment in the comment section below. Or send to us via the contact form!