In recent years, telehealth platforms have gained popularity as a convenient and accessible way to access medical services. One such platform, Sesame Care, is making waves in the healthcare industry. This Sesame Care review aims to explore how this telehealth platform is transforming the way we seek medical assistance.
Sesame Care prides itself on providing easy and affordable healthcare options to patients. With a wide range of services available, from virtual consultations to in-person visits, Sesame Care aims to streamline the healthcare experience. By connecting patients to medical professionals in their area, Sesame Care ensures that individuals can receive quality care without the hassle of long wait times or excessive costs.
This review will delve into the features and benefits of Sesame Care, examining how its user-friendly interface and transparent pricing structure contribute to a seamless patient experience. Moreover, we will explore how Sesame Care's emphasis on personalized care and accessibility is transforming the way we approach medical services.
If you're looking for an innovative and convenient solution for your healthcare needs, this Sesame Care review will provide valuable insights into whether this telehealth platform is the right choice for you.
Overview of Telehealth Platforms
Telehealth platforms have revolutionized the way we access medical services. Gone are the days of waiting for hours in crowded waiting rooms or struggling to find available doctors. With telehealth, individuals can easily connect with healthcare professionals from the comfort of their own homes.
These platforms utilize technology to bridge the gap between patients and doctors, allowing for remote consultations, medical advice, and even prescription refills. Telehealth platforms have become particularly popular due to their convenience, accessibility, and cost-effectiveness.
Services like Sesame Care, which use telehealth and telemedicine platforms, present a solution to the persistent challenge of access to quality healthcare. This is particularly advantageous for underserved and rural populations. Historically, geographical barriers, high costs, and lack of medical facilities contribute to access gaps in these areas.
Telemedicine has emerged as a promising solution to bridge healthcare access gaps. It enables patients to consult with healthcare professionals, regardless of their location, by utilizing technology to provide remote medical services. This approach can help overcome geographical barriers and increase convenience for patients.
Understanding Sesame Care
In 2009, David authored a captivating cover story for the Atlantic, titled "How American Healthcare Killed My Father". This later evolved into a comprehensive book named "Catastrophic Care: Why Everything We Think We Know about Health Care Is Wrong". Remarkably, this journey shaped him into a prominent advocate for healthcare reform. His dedication paved the way for the inception of Sesame Care.
Sesame Care's mission revolves around making healthcare accessible and affordable for all. Their goal is to eliminate care obstacles and empower people to manage their well-being by directly linking them with providers.
Sesame Care's platform offers virtual consultations with healthcare providers. This allows patients to schedule appointments, seek medical advice, and receive prescriptions online. Their pricing model provides transparency upfront, ensuring patients know the cost before receiving care. The platform encompasses a wide array of medical specialties and services, ensuring comprehensive healthcare coverage. Advanced technologies like AI-driven symptom assessment and data analytics enhance the user experience.
Pricing Transparency and Affordability
Traditional healthcare often lacks pricing transparency, resulting in unexpected bills and financial stress for patients. This is exacerbated by high deductibles and copayments that discourage necessary care. Sesame Care addresses this by offering clear upfront pricing, empowering patients to make informed decisions.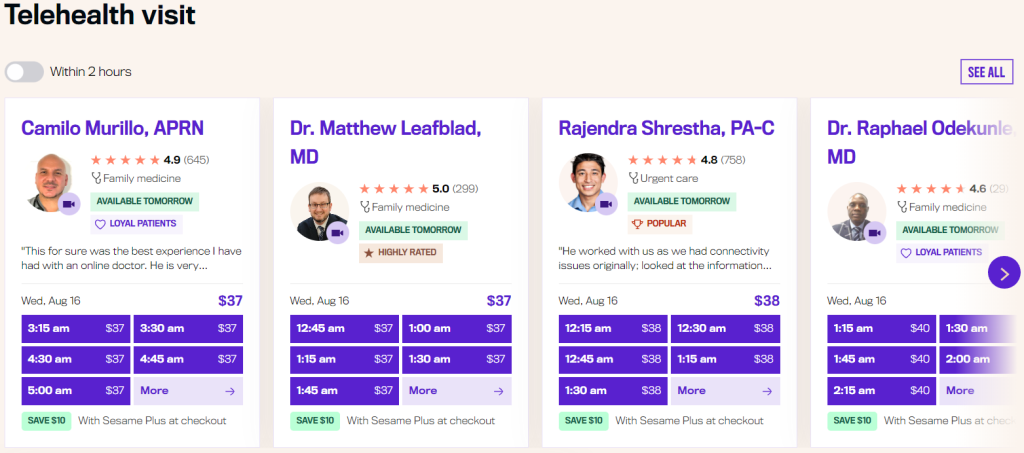 The platform also offers Sesame Plus, which is a subscription plan if you want to maximize savings using Sesame Care. It provides economical access to leading doctors in primary care, telehealth, specialties, dentistry, labs, and imaging services. You can enjoy exclusive prices, $10 savings on appointments, site-wide discounts, and a free annual lab test. With this in mind, Sesame Plus significantly reduces healthcare expenses.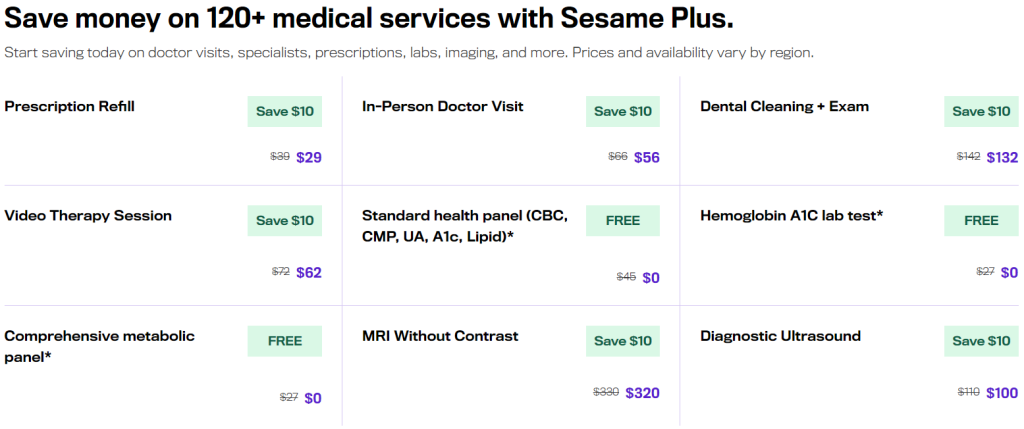 Membership costs $10.99 per month or $99 per year, with over 100,000 satisfied members having saved $3,123,774. Sesame Plus seems to exemplify its commitment to affordable and accessible healthcare, ensuring tangible benefits and cost savings for members.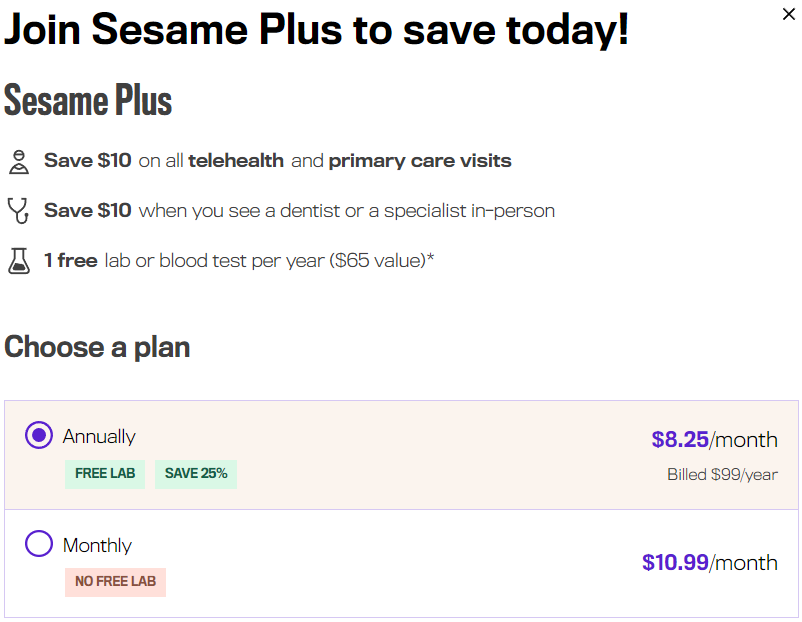 The Impact of Sesame Care on Healthcare Access
Sesame Care plays a crucial role in addressing healthcare disparities. It focuses on underserved populations, including those in remote and medically underserved areas. The platform's virtual consultations connect patients with healthcare providers, eliminating the need for extensive travel and thus reducing access barriers.
Geographical distance often poses a significant challenge to obtaining medical care, particularly for those residing far from healthcare facilities. Sesame Care effectively overcomes this challenge by offering virtual consultations. This enables patients to receive medical attention from the comfort of their homes. This innovative approach breaks down geographical barriers, ensuring timely and accessible healthcare delivery.
Furthermore, Sesame Care recognizes the intersection of socioeconomic and geographical disparities, which contribute to unequal healthcare access. By prioritizing affordability and convenience, Sesame Care helps mitigate these disparities. The platform creates a standardized platform where patients, regardless of their location or income level, can access healthcare services equally. This strategy seeks to level the playing field, ensuring quality healthcare access for everyone, regardless of their situations or backgrounds.
Challenges
Sesame Care offers multiple advantages as a telemedicine solution. Yet, it also has limitations that demand meticulous focus on precise evaluations and ensuring secure healthcare delivery. Two (2) related literature will be provided to tackle all possible challenges of telemedicine that Sesame Care can possibly face.
Related Literature: Challenges in Telemedicine: Even When the Road is Hard, Never Give Up by E. Marques de Souza Filho and A. Monteiro
A 2022 editorial identified six (6) limitations of telemedicine: [1] resistance, [2] limits to use, [3] security and reliability of systems, [4] the relationship with other digital tools, [5] access, and [6] continuous evaluation and engagement. Overcoming these hurdles promises more accessible, efficient, and patient-centered healthcare.
Firstly, skepticism arises due to concerns about telemedicine's effect on doctor-patient relationships and patient well-being. Overcoming this requires transparency and ethical compliance, which call for improved understanding among patients and healthcare providers. Integrating telemedicine into medical education and ensuring user-friendly technology can boost its acceptance.
Secondly, it's important to recognize the limitations of telemedicine. It serves as a complement, not a replacement, to in-person care. Ensuring patient safety involves setting clear expectations for its benefits and knowing when in-person consultation is necessary.
The third challenge revolves around data security, requiring ongoing vigilance to prevent breaches that could harm patient well-being.
The fourth challenge involves incorporating telemedicine into the wider digital healthcare context. This means understanding how artificial intelligence, electronic health records, wearables, and other digital tools interact. The aim is to build a unified system that embraces diverse healthcare strategies.
The fifth obstacle centers on broadening telemedicine accessibility. This demands building infrastructure and customizing management approaches to extend its advantages to a broader populace.
Lastly, the sixth challenge revolves around ongoing assessment and metrics enhancement. This involves gauging patient contentment, validating within context, and exchanging experiences to enhance telemedicine's effectiveness.
Related Literature: Benefits of Telehealth and Challenges to Consider When Implementing the Healthcare of the Future by Welkin
Another article by Welkin about the challenges of telemedicine considers both the healthcare provider and patient perspectives.
Challenges faced by healthcare providers in telehealth include payment issues, as historical gaps between Medicaid/Medicare and in-person visits persist. Although pandemic-related reimbursement expansions have happened, their lasting impact is unclear. Regulatory hurdles have impeded telehealth adoption, though pandemic-driven changes have led to comparable payment rates. The scalability challenge arises for healthcare organizations without advanced infrastructure, hindering effective telehealth integration.
Patients encounter difficulties in telehealth related to privacy and security. Concerns about privacy arose during the pandemic, leading to the need for secure, password-protected platforms compliant with HIPAA standards. Patient awareness and understanding of telehealth options present an additional obstacle, though increased pandemic-related word-of-mouth is likely to boost interest. Limited technology access or inadequate training may impede patient engagement, but positive initial experiences often result in continued adoption.
User Experiences
Real-world patient experiences provide valuable insights into Sesame Care's impact on healthcare access, showcasing positive transformations and validating its effectiveness.
The feedback received by Sesame Care and its healthcare providers covers a broad range of perspectives and experiences. The platform's Trustpilot ratings showcase an impressive 4.3 out of 5 stars, based on nearly 1,000 reviews.
Positive Reviews
Many patients have shown appreciation for the cost-effective healthcare services provided. This includes the availability of discount codes for medications. They also value the user-friendly platform interface that enables convenient scheduling of appointments with specific providers.
The platform's reputation for efficiency is reinforced by highlighted attributes such as promptness and ease in securing appointments. Patient testimonials consistently recognize the cost-effectiveness and convenience of Sesame Care's offerings, underscoring the accessibility of quality care. Particularly noteworthy is the rapid availability of healthcare professionals within days, meeting the needs of those seeking timely medical attention.
Negative Reviews
Amidst the positive narratives, certain instances reveal areas where users encounter challenges in using Sesame Care. Concerns raised by customers pertain to prescription processing and customer service. Some individuals faced challenges acquiring prescriptions due to unresponsive doctors. Additionally, others encountered problems with prescription processing, resulting in increased medication expenses. Moreover, complaints about unaddressed charges on bank accounts and prescription mishaps point to lapses in responsiveness and professionalism.
Together, these accounts illuminate a range of concerns, including communication breakdowns, prescription inefficiencies, and unresolved issues. They emphasize Sesame Care's ongoing efforts to provide reliable and steadfast healthcare services.
Get Access to Quality Health Care with Sesame Care
In summary, Sesame Care stands as a trailblazer in healthcare. The platform revolutionizes telemedicine to break down barriers for underserved populations facing geographical and financial challenges.
Traditional barriers, such as scarce medical facilities, steep expenses, and geographic separations, have led to healthcare disparities and postponed treatment. To bridge these gaps, Sesame Care orchestrates virtual consultations with licensed specialists. This approach embodies Sesame Care's mission to democratize healthcare, ensuring universal accessibility and affordability.
Amidst its successes, Sesame Care navigates challenges intrinsic to telemedicine, including patient privacy and security concerns. Moreover, limited technology access and inadequate training can impede patient engagement. Additionally, customer feedback reveals areas for improvement, such as unaddressed charges and prescription errors. These reflect the platform's ongoing journey to provide consistent and dependable healthcare services.
Despite these challenges, Sesame Care remains at the forefront of telemedicine's potential to redefine healthcare access. The platform propels toward a more equitable healthcare landscape. This can be accomplished by breaking down geographical barriers, empowering patients, and emphasizing transparency and affordability. Its unwavering dedication to innovation and inclusivity sheds light on closing existing healthcare gaps.
---
Sesame Care Coupon Code & Deals:
---
CLICK ➤ $5 Off on Medication Appointment Coupon – Use code RX5
---
CLICK ➤ One Month Free Trial To Membership – Use code TRYSESAME
---
VISIT ➤ Same-Day Doctor Visits Starting at $19
---
CLICK ➤ 15% Off Your Appointment – Use code Sesame15
---
Post your review of the Sesame Care Telehealth Platform in the comment section below. Or send to us via the contact form!
References
Souza Filho, E. M. , & Monteiro, A. (2022). Challenges in Telemedicine: Even When the Road is Hard, Never Give Up. Int. J. Cardiovasc. Sci., 35(2), 159-160.
Welkin Health. (30 March 2021). Benefits of Telehealth and Challenges to Consider When Implementing the Healthcare of the Future. BLOGS, TELEHEALTH, REMOTE PATIENT MONITORING.