Looking for The Handy Sex Toy reviews? There you can find the latest customers opinions about male masturbator, stroker. Read any review carefully and decide if it's worth buying TheHandy.com store device.
---
The Handy Sex Toy Reviews:
---
Name/Nickname: Nico

A little too technical for me, but toys like this get me so excited. There's a severe lack of motorized toys that are made for stimulating penises and it's always really cool to use this one.
Name/Nickname: Jeremy

Handy has made an amazing device. It was absolutely worth the money. It's a lot of better sex toy than my previous Fleshlight. This machine is amazing ❤️
Name/Nickname: Brian

I wasted a ton of money on other auto strokers like PipeDream, AutoBlow Ai, etc. that did nothing for me. This one is the best by far, even better than Fleshlight IMO. It is surprisingly small, quiet, runs on electric so it never stops, and will go from teasingly slow to machine gun fast. You can also adjust the stroke length and synch to videos via Bluetooth. I found that the included sleeve feels better since I cut the closed end off to give it more stroke length. To me the included sleeve feels better than my Fleshlights or Hummingbird wand attachment, all which I've since thrown away. One other thing, you can adjust the Velcro strap to make the sleeve tighter or looser to accommodate your girth.
Name/Nickname: Jeremy

The product is amazing. Easy setup, easy use. The only difficult thing is the clean-up. This toy is worth any $. Very satisfied customer.
Name/Nickname: Jeefrey

Best masturbator ever! Forget all the others. The handy has amazing VR interactive experience! It's much more better than fleshlights and kirro devices.
Name/Nickname: Andrew

Excellent product! Works very very well. Best I have ever owned. Definitely not made for guys with birth, but that does make it tighter. Definitely recommend it.
Name/Nickname: Daniel

No, it's not better than the real thing but for solo sessions it's better than anything you've ever had before. I love it and when I wear it out, I'll buy a new one soon.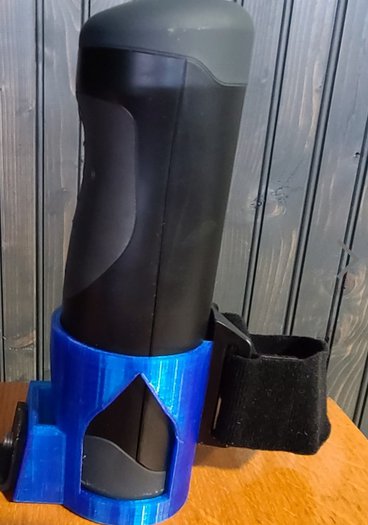 Name/Nickname: Mark

Buy This! This toy was everything I could ever want!
Name/Nickname: Chris

Perfect device! This is the best device out of 4 that I've bought, and it's ahead by a long way.
Name/Nickname: Juan

So far i love thehandy it is by far the best toy i ever owned but the overheating i think needs to be addressed i have a great stamina and i can outlast it and im also wondering if there are any places that you could connect it to that allow other people to control it for you.
Name/Nickname: Greg

Works as advertised! It's not discrete in packaging or sound level, but it works! Thank you for the Handy toy!
Name/Nickname: Kevin

I ABSOLUTELY LOVE the handy toy!! The sleeve is made from the material of cheaper sleeves and I fully understand why you would include it with this amazing device. I prefer the squishy toys like a fleshlight as far as it just simply feels better on my cock and tickles me enough to orgasm . There's also something about having air pas through the sleeve that makes a difference. Though it may catch anything it also catches air and doesn't have the same force .
Name/Nickname: Richard

I love it, best way to use it is with a vr headset and interactive scripts.
Name/Nickname: Christopher

I did not expect a machine to be able to do this. This thing made me realize that being single might not be too bad after all! And currently I'm in a committed relatonship!
---
The Handy Sex Toy Coupon Codes & Deals:
---
---
---
The Handy Resources:
---
---
---
---
Post your reviews about The Handy Sex Toy in comment section below or send to us via contact form.