If you're looking for a tool to help you manage your LinkedIn account, you may have come across Dripify LinkedIn automation and prospecting tool. But is it the right choice for you? In this review, we'll take a closer look at its features, benefits, and potential drawbacks to help you make an informed decision.
What is Dripify and how does it work?
As the world's largest professional network on the internet, LinkedIn is a valuable source of leads for those working in sales and marketing. The only problem is that establishing connections and nurturing those existing contacts take up a lot of time.
And time is a scarce resource in business.
Dripify solves that for you. Dripify is a LinkedIn automation tool that allows users to automate their LinkedIn outreach and engagement efforts. It works by using a set of pre-defined rules and actions to interact with other LinkedIn users, such as sending connection requests, messages, and endorsements. Users can also set up drip campaigns to send a series of messages to their connections over time.
In a nutshell, Dripify promises to save you time and improve your prospecting efforts on LinkedIn, helping you close more deals with complete automation and cloud-based computing.
Dripify is notable for the following reasons:
You can customize your sales funnel to cater to your needs and goals
You can sit back while Dripify performs all the sales prospecting and outreach activities for you
You can go beyond the connection invite limit and restriction without risking your LinkedIn account
Using Zapier, you can integrate Dripify with other software to help you generate more leads.
You can safely use Dripify without LinkedIn detecting any suspicious activity from your account
Dripify LinkedIn Tool Features and benefits 
As a tool, Dripify offers a range of features and benefits for LinkedIn users looking to automate their outreach efforts. Some of the key features include the ability to set up automated connection requests, personalized messages, and endorsements. It also has features to cover everything from creating a sales outreach campaign to closing a sales deal:
Create drip campaigns – You can set up drip campaigns to send a series of messages to your connections over time. You can add leads to your campaign using the LinkedIn search or by pasting LinkedIn profile URLs of sales leads. Dripify also lets you import leads profiles from a CSV file. From there you can build your prospecting sequences using the control panel.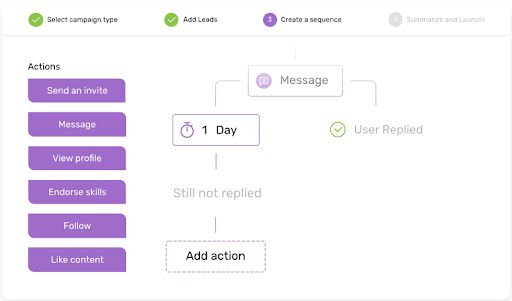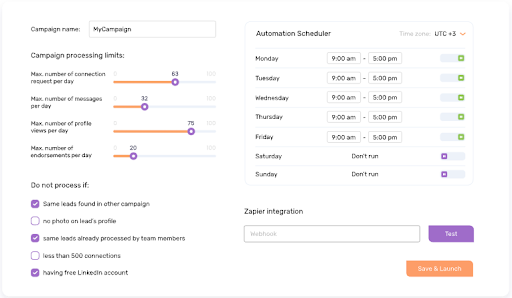 Analyze LinkedIn Metrics – Dripify's control panel displays detailed LinkedIn stats and metrics for your overall LinkedIn performance. You can keep track of your account's daily usage, observe the recent activities performed by Dripify, and evaluate the performance of your Dripify campaigns on your LinkedIn Analytics Page.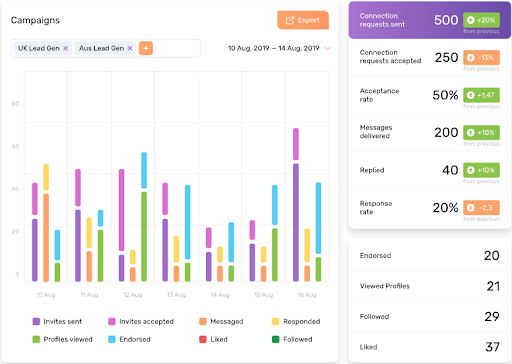 Team Management – You can manage your entire sales team with a few clicks by onboarding team members. You get to assign roles and track the performance of your team members. You can access the detailed analytics page of each team member to see the list of campaigns created, conversion rates, LinkedIn performance, and LinkedIn profile stats.
LinkedIn Scraper – You can export LinkedIn contracts to a CSV file with necessary data, including e-mail addresses, phone numbers, website URLs, and connections.
Smart Inbox – You can manage your LinkedIn conversation with leads directly from your Dripify control panel with an advanced LinkedIn messenger. You can communicate with your leads in your personal messenger tool in Dripify, mark conversations as "important" for quick access, and edit notes to the profiles of your sales leads.
Extra Safety Algorithm – Keep your LinkedIn account safe and secure with Dripify's advanced safety features. The cloud-based computing of Dripify allows you to get a unique IP address, mimic human behavior, and regulate all your LinkedIn activities to prevent your LinkedIn account from being flagged for suspicious and excessive actions.
Pricing and value for money
It's important to note that Dripify does come with a monthly subscription fee and may not be the best fit for all LinkedIn users. On a positive note, you can take the Dripify LinkedIn tool for spin with a seven-day free trial. This lets you access all six features without entering payment details. After the free trial, Dripify will prompt you to select your desired subscription plan and enter your billing details.
Once you've tried Dripify LinkedIn and are convinced of its value, you can choose from three different subscription plans: Basic, Pro, and Agency.
The Basic plan starts at $59 per month and includes basic features such as automated connection requests and personalized messages.
The Pro plan, which costs $79 per month, includes additional features such as advanced targeting and analytics.
The Agency plan, which is designed for teams and agencies, starts at $99 per month and includes all the features of the Pro plan plus additional team management tools.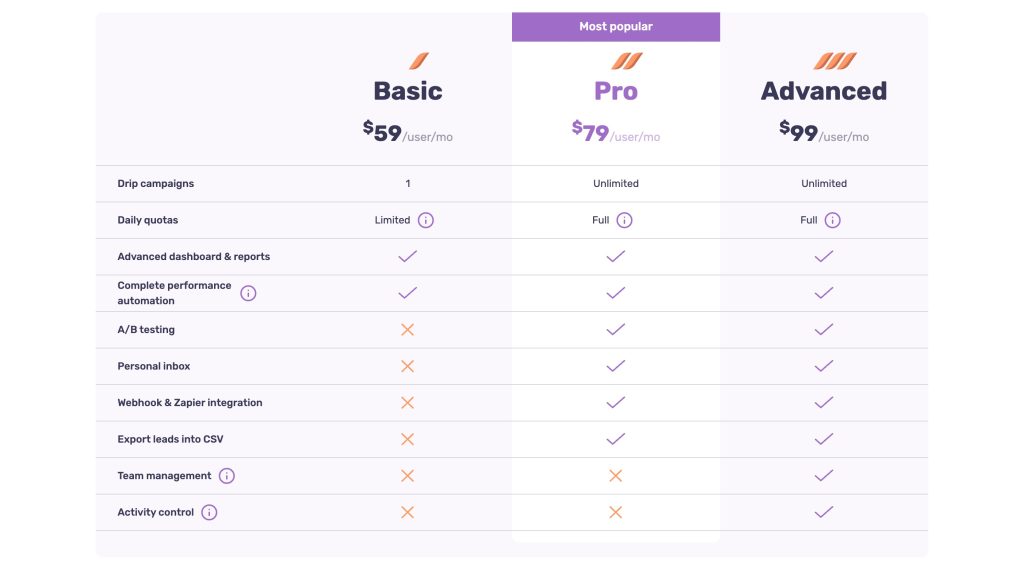 You save 35% if you pay your Dripify LinkedIn tool on an annual basis: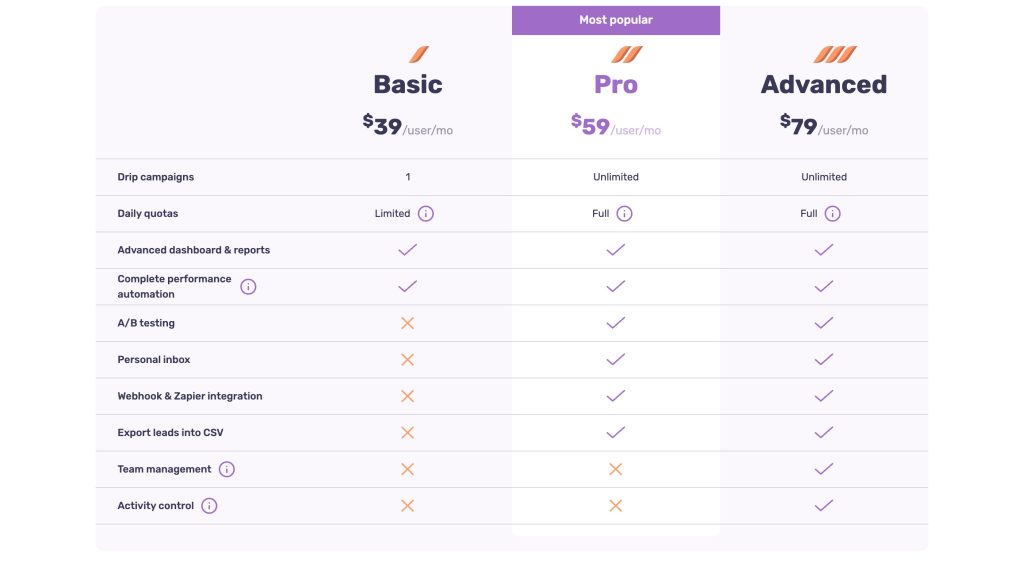 Plan inclusions
You can see the inclusions below for each subscription plan. It makes sense for you to select the Advanced Plan at $79/month (if paid annually) to access all the six features of Dripify. The Basic Plan only provides one campaign and daily quotas for your sales prospecting and outreach. The Pro Plan does not include team management and activity control features, thus only ideal for individuals rather than companies.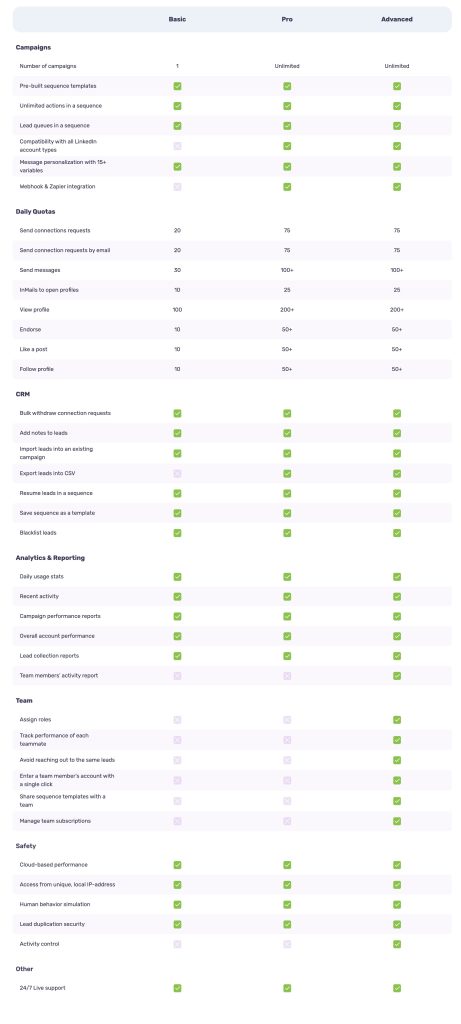 While Dripify may seem expensive compared to other LinkedIn tools, it offers a range of features and benefits that can help users save time and increase their ROI. Ultimately, the value for money will depend on the specific needs and goals of each user.
Dripify LinkedIn Tool PROS and CONS
Like any other tool, Dripify has its pros and cons that users need to consider before investing in it. You can use the information below to weigh in on your decision to invest in the Dripify LinkedIn tool.
PROS
Dripify offers six main features for completely automating sales and prospecting. The package includes sales team management, integration of leads data, and management of conversations with leads.
Dripify LinkedIn tool mimicks human behavior, which can bypass LinkedIn invitation limits.
The interface of Dripify is user-friendly. You can easily access all the commands you need for your automated sales and prospecting activities, even without technical skills.
You can learn how to use Dripify easily using its video tutorials and resources on the website.
Dripify offers A/B testing, where you can send campaigns to your test audiences (e.g., LinkedIn connects that are not your sales prospects) before launching your campaigns to your leads.
Dripify has a 7-day free trial for Advanced Plan, where you can access all the features that Dripify can offer without giving them your payment details.
The three subscription plans offered by Dripify have 24/7 live support for your inquiries or concerns about Dripify.
A comprehensive report from Dripify compares it with other leading LinkedIn automation and prospecting tools. Dripify also has a comprehensive 1v1 comparison between Dripify and a leading LinkedIn automation tool.
CONS
You need to subscribe to Dripify's most expensive Advance Plan to access all six features of Dripify.
Dripify is not ideal for users who include e-mail as part of their sales outreach, as Dripify does not have e-mail automation and e-mail discovery and verification feature.
Dripify does not offer Image & GIF hyper-personalization, nor can you create custom variables in your CSV campaigns.
Dripify does not have a mobile app, so you cannot track the progress of your sales outreach and prospecting in Dripify anywhere.
Dripify has questionable customer service and refund policies, based on some users.
Dripify LinkedIn Tool Reviews: What Users Say
Actual users generally have favorable reviews on Dripify, with a few users dissatisfied with the automation tool. Aggregated reviews and ratings show fair ratings for Dripify based on the following websites:
G2: 4.6 out of 5 stars, based on 132 reviews and ratings.
Trustpilot: 4.2 out of 5 stars, based on 32 reviews and ratings.
Capterra: 3.4 out of 5 stars, based on 7 reviews and ratings.
G2 and Trustpilot show an overall high rating for Dripify, unlike Capterra. Capterra captured more negative sentiments but they also had fewer user reviews than the two other review sites.
Below you can see some of the Dripify reviews provided by the actual users.
Positive Reviews:
Majority of actual users gave Dripify glowing reviews. They mainly its user-friendly interface and its capability to deliver all six features as advertised.
Negative reviews:
While Dripify offers many useful features for LinkedIn users, there are also some drawbacks and limitations to consider. For instance, some users expressed frustration with Dripify customer service. They were unsatisfied with how concerns about questionable refund policies and non-transparent billing of subscriptions were dealt with.
Users also noticed some lags in the user interface (UI). There are also some existing issues regarding user experience and control – such as the ability to edit templates and workflows.
The limitation of Dripify's Basic Plan can also be a deal breaker. Some users switched to other automation and prospecting tools since they offer better inclusions in the same plan.
How does Dripify LinkedIn Tool compare to its competitors?
Dripify does well in the niche of LinkedIn automation. It can compete with other leading tools with its wide range of services offers, including compatibility with Free, Premium, Sales Navigator, and Recruiter Lite; complete sequence automation; triggers and conditions; prospect export/import; A/B testing; in-built messenger; Zapier integration; and 24/7 live support.
The monthly subscription cost of Dripify can be expensive. You need to avail of the $59/month Pro Plan to access all features except the Team Management and Activity Control features. Still, you have to consider that the cheaper alternatives to Dripify, such as Dux-Soup, do not have the same range of LinkedIn automation and prospecting capabilities offered by Dripify.
And since Dripify is mainly for LinkedIn, you might have to consider adding other automation tools for your email campaigns, such as Meet Alfred, Expandi, and Skylead. However, bear in mind that only Expandi offers complete email sequence automation.
DRIPIFY.IO REVIEW: THE VERDICT
Overall, Dripify LinkedIn tool is a good investment if you want to save time and effort on LinkedIn outreach. It makes it easier for you to generate connections and leads on LinkedIn. There are still some issues with the tool's accuracy in targeting and messaging. You'll also encounter occasional glitches and bugs, which we hope will be resolved by the Dripify team in their future updates.
Despite this drawback, there's no denying that Dripify is one of the best if you're looking to streamline your LinkedIn marketing efforts and increase ROI. As with any tool, it's important to carefully consider your specific needs and goals before deciding if Dripify LinkedIn tool is the right choice for you. You should know what LinkedIn tasks you want to automate so you can maximize your subscription spend. Be prepared to add another tool if you want to add email and hyper-personalization for your sales prospecting and outreach.
Otherwise, Dripify offers all the possible automation activities for your sales prospecting and outreach on LinkedIn, with complete safety against cybersecurity risks. Just be prepared to up your budget for Dripify's Advanced Plan to access all six features of the automation tool.
---
Dripify Discount Code & Deals:
---
CLICK ➤ $240 off Annual Plan Discount
---
CLICK ➤ Free Trial for 7 Days
---
Post your review of the Dripify LinkedIn tool in the comment section below. Or send to us via the contact form!