Looking for AccelerList reviews? There you can find the latest customers opinions about AccelerList software. Is it worth to invest or not? See below!
---
AccelerList Reviews:
---
Name/Nickname: Ran

Can't begin to say good enough things about AccelerList! The best listing software on the market & awesome customer service!
Name/Nickname: Matt

These guys are the best! They are very personable, and pay attention to their customers so well. I consistently see Travis on their Facebook page, answering questions, and getting things done! They really care, which is rare to find. Every time i've had a question, they respond quickly, and genuinely want to help. I feel invested in Accelerlist & will recommend them every time!!!
Name/Nickname: Bob

Won't do FBA without it! And there support is some of the best I've ever experienced.
Name/Nickname: Dan

They are a great solution for Amazon and FBA workflows.
Name/Nickname: Jamie

Accelerlist is an indispensable tool for our business that far surpasses any competitor in flexibility, speed of listing, and user friendliness. We've noticed continuous improvements implemented in real time based on feedback from real sellers. One example of this is the comprehensive accounting suite built into the most recent release, meaning actual usable data and better informed decisions. The development team at Accelerlist solves challenges efficiently and effectively.
Name/Nickname: Andrew

The only listing software I've ever used for my Amazon business. All the key features that you need. Don't plan on using any other. The service support team is amazing too!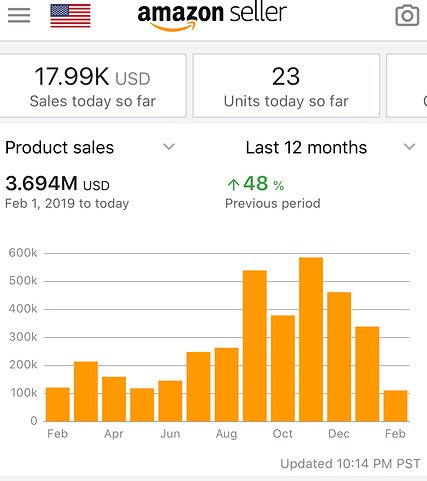 Name/Nickname: Scott

I had heard great things about Accelerlist and InventoryLab. My decision was to go with Accelerlist and I am very happy 🙂
Name/Nickname: Carl

If you're not using Accelerlist, you're slipping big time! I switched over from IL to AL, and let me tell you, not only is it cheaper, but it's way more user-friendly for book sellers. The team is very caring, and the developers are always looking out for your well-being. If others are switching over, you should too!
Name/Nickname: Jim

This is simply the best listing software out there. On top of all the versatility and ease of use it brings, the folks that are constantly developing and improving this tool are top notch. I've never seen such an outwardly receptive group of developers. Love this tool!
Name/Nickname: Roy

This is the new gold standard in online seller software for Amazon but I think it's a little bit expensive.
Name/Nickname: Chris

I couldn't imagine running my business without AccelerList! 5 STARS
---
AccelerList Coupon Codes & Deals:
CLICK ➤ Upto $156.00 off Annually Plan Discount (Pay annually and get 2 months free)
---
CLICK ➤ Free 14 Day Trial (Try AccelerList free for 2 weeks)
---
Post your review about AccelerList in comment section below or send to us via contact form.