PetKit offers innovative solutions for pet care, enhancing safety, convenience, and efficiency. It has gained recognition as a prominent player in the smart pet care industry. This comprehensive review of PetKit aims to provide insights into its smart product offerings. We invite you to join us on this exploration of smart pet care, prioritizing the well-being of your beloved furry companions.
What is PetKit?
PetKit is a pet care company dedicated to offering a range of products that can contribute to providing excellent care for your pets. Established in 2013, their mission is to redefine pet care and improve the lives of our furry friends.
With a presence in over 30 countries, PetKit has successfully introduced its product line to a global audience. The company's commitment to innovation is evident through its extensive collection of over 400 product patents, incorporating smart pet care solutions. This dedication to excellence has been recognized by the industry, resulting in 21 prestigious awards from renowned international industrial design competitions such as the iF Product Design and Red Dot Design Awards.
The distinguishing factor of PetKit lies in its focus on designing and manufacturing smart devices and accessories that elevate the overall pet care experience. By integrating intelligent features, intuitive designs, and user-friendly interfaces, PetKit has earned a reputation for delivering innovative pet care products.
Without a doubt, PetKit goes beyond being just a pet store; it aims to be a one-stop shop for pet owners that want only the best for their pets.
Pet Care Products of PetKit
As a responsible pet owner, it's essential to have a diverse selection of products to cater to your pet's specific needs. PetKit is a brand that recognizes the unique requirements of pet owners and their furry companions. We will introduce you to some popular PetKit products and highlight how they can enhance your pet care routine. Additionally, the PetKit App offers convenient access to product features and allows remote control for all your pet care tasks.
It is an automatic water fountain that gives fresh, clean water to pets 24/7. Eversweet comes in 3 models: Solo 2, Solo SE, and 3 PRO. The Solo 2 is the first-released version, while the 3 PRO is the most recent.
The newest upgrades include the use of 304 stainless steel and Tritan as body materials, known for their durability, corrosion resistance, high-temperature resistance, and ability to maintain clean and safe drinking water.
EVERSWEET FEATURES
3-Layer Filtration System
Filters hair and dust, heavy metals, and odor
Wireless Design
Easy to disassemble and clean
3 Operation Modes
Smart Mode: customize interval time of flow, save power, and filter consumption
Normal Mode: automatic water release at all times
Night Mode: customize the sleep period of Eversweet
Roman Column Structure
Promotes flowing water with gentle sound at less than 35 dB
Fresh Element is a range of Petkit automatic feeder that allows owners to feed their pets remotely. Petkit offers 3 models in its smart feeder as well: Solo, Gemini, and Infinity. Solo was the first product launched under Fresh Element, while PetKit released Infinity as the latest model. As an upgrade from Solo, Infinity now has a triple fresh-lock system (i.e., sealing silicone, desiccant box, and sealed door) and an auto-rotating bowl feature to ensure that your pets can eat without upsetting their stomach.
FRESH ELEMENT FEATURES
Remote Feeding
Can provide food for 15 days in case you're busy with work
Dribble & Freeze-Dried Compatible
Make feeding more interesting with a food mix composed of dry and frozen kibbles
304 Stainless Steel Bowl
Dishwasher-free and plastic sensitivities-free
Clog-Free Design
Enhanced impeller and larger dispenser chute installed for consistent feeding
Backup Battery
Dispense food even during power outages
When you improperly store the food of your pets, they can be at risk for gastrointestinal illness, diarrhea, or food poisoning. This is where the Vacube comes in. It is a pet food storage container that uses vacuum technology to remove air from the container, effectively preventing oxidation and extending the freshness of your pet's food for longer durations.
VACUBE FEATURES
Quick Vacuum
Perform a vacuum inside for seconds using a vacuum module
Automatic Detection
Maintain vacuum through automatic re-pressurizing with an integrated pressure level monitor
Detachable Vacuum Module
The vacuum is still maintained even if the module is removed for charging
Sealing Design
Moisture-proof and prevents dust and food deterioration
Petkit Cat Litter: PuraX and PuraMax
If you don't want to deal with the hassle of cleaning your pet's litter, then PuraX and PuraMax are for you. These are self-cleaning litter boxes that employ sensors and mechanisms to automatically scoop out waste and keep the litter box odor-free.
PuraMax is just the larger version of the PuraX that can accommodate multiple cats. It has a capacity of 15 liters, which can hold up to 7 days' worth of waste for a single cat or 3 days' worth of waste for two cats.
PURAX and PURAMAX FEATURES
Up to 15 Days of Free Scooping
Can be used by your cats even if no one is at home
Multiple Cleaning Modes
Auto mode, manual mode, timer mode, and empty mode; can be set up remotely
Pet Health Monitoring
Built-in sensors to track your pet's weight, toilet frequency, and duration
Deodorization System
Locks in and breaks down smelly molecules
xSecure System
Hall sensor: for the top cover
Proximity and infrared sensors: to detect any pet that approaches the entrance
Intelligent alarm system: to detect anything abnormal
Accident protection mechanism: to prevent any accident when performing self-cleaning
Anti-pinch sensors: to detect any pet that approaches the waste container
Weight sensors: detect any pet that enters the litter box
AirSalon Max
AirSalon Max is a smart pet dryer that uses a 360° surround airflow system to effectively dry your pet. The airflow system disperses heat and airflow evenly, preventing your pet from being exposed to hot patches. This product may be great for owners who want to dry their furry companions quickly and safely.
AIRSALON MAX FEATURES
60L Large Capacity
For your pets to move easily or lie down more comfortably
Fast Drying
360° surround airflow system for equally-distributed drying of your pets
Multi-Drying Modes
Comfort mode, normal mode, and fast mode – depending on your pet's drying needs
Protection System
8 precise safety protection sensors that provide real-time temperature monitoring and detect abnormal temperature conditions
Low Noise
Less than 42 dB of sound for your fur baby's peace of mind
App Smart Control
Precise temperature control for optimal drying
Airclipper 5-in-1 Pet Grooming Kit
If you want to avoid the trouble of going to a pet grooming shop, then this product is for you! The Airclipper is a versatile and user-friendly 5-in-1 grooming kit that allows you to customize the way your pets look like.
Airclipper 5-in-1 Pet Grooming Kit
Grooming Brush
Removes loose fur and helps untangle small mats
De-Shedding Brush
Removes dead undercoat hair
Body Fur Trimmer
Trims your pet's body fur; comes with 4 different guard combs for different lengths
Paw Trimmer
Trim your pet's nails; can also be used for eyes, ears, and face
Crevice Tool
Collects all furs shed from sofas, beds, carpets, and hard-to-reach areas, such as corners, keyboards, etc
Airclipper can offer a superior grooming experience for your pets, thanks to the following features::
AIRCLIPPER 5-IN-1 PET GROOMING KIT FEATURES
Snag-Free and Smooth Cutting Experience
Powerful dual-speed rotary motor: for superior cutting performance
Carbon steel clipper: more durable, harder, and sharper
Ceramic moving blade: skin-friendly even for sensitive pet skin
Strong Suction to End
High-speed premium motor: promotes strong suction of pet hair
3-layer filter system: separates materials according to size
Optimized airflow system: improves vacuum efficiency by compressing pet hair
Breezy Dome 2
Breezy Dome 2 is a pet backpack with built-in ventilation and lighting. It can be an excellent choice for traveling with your pet because of the following features:
BREEZY DOME 2 FEATURES
Quiet Built-in Fan
Improves air circulation inside the backpack
Multiple Air Vents
Allows air convection so that your pet can breathe freely
Adjustable Mechanical Buttons
Adjust to appropriate wind speed and light levels for your pet's comfort
Wide Tinted Window and Blind Zone
Tinted window: Protect your pet against UV rays
Blind zone: Provides a quiet place to rest for your pet
Back-Friendly
Breathable mesh fabric and high-density pearl cotton with multi-panel ventilated padding that provides strong support for your back
Price Comparison between PetKit and Competitors
PetKit integrates smart solutions to different pet care products to innovate the way we take care of our furry companions. However, the question is still whether innovation meets affordability, or not.
Pet Water Fountain
The transition from Solo SE to 3 Pro showcases notable improvements. PetKit upgraded the materials from ABS and silica gel to 304 stainless steel and Tritan, which offer enhanced durability, scratch resistance, and dishwasher-friendly properties. Additionally, the inclusion of smart technology enables remote management of the fountain, ensuring a constant supply of fresh water for your pet.
While the 3 Pro comes at a slightly higher price point than the Solo SE, the added features and increased durability make it a worthwhile investment. However, if you're on a tighter budget, the Solo 2 is still an excellent choice. It offers smart technology but lacks the night mode feature found in the 3 Pro.
This review presents a comparison between the Eversweet 3 Pro pet water fountain and three competing options: Rellaty, Ciays, and PetSafe.
Out of the four fountains, the 3 Pro is priced at the higher end, but it offers a comprehensive set of features. It distinguishes itself by being the only fountain equipped with smart technology, allowing convenient remote control from your phone. Additionally, the 3 Pro incorporates a 3-layer filtration system to ensure clean and odor-free water.
While the other three fountains are automatic, they do not include smart technology and have fewer features. Furthermore, they are available at relatively lower price points.
Although the 3 Pro comes at a higher cost, it provides added features and improved durability. The inclusion of smart technology is particularly advantageous for busy pet owners who may require remote control capabilities.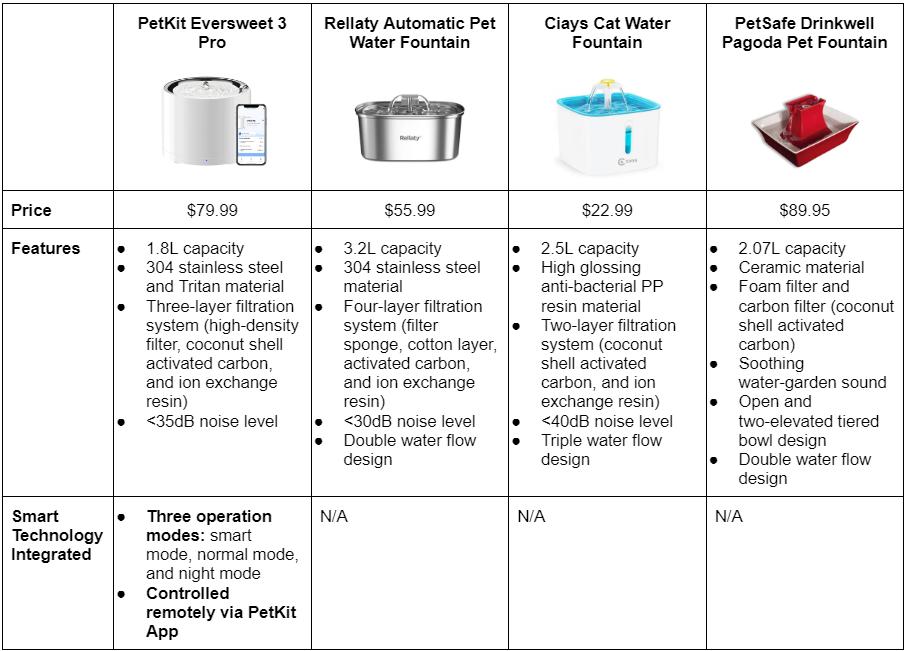 Pet Feeder
In comparison to Solo, Infinity offers several notable features. PetKit has increased the maximum portions per dispense, allowing for a larger amount of food to be served to your pet at once. Additionally, the backup battery of the Infinity feeder is now rechargeable, adding to its convenience. Moreover, the integration of smart features such as the intake monitor and over-dispense control sets it apart.
The intake monitor keeps track of your pet's food consumption, while the over-dispense control prevents excessive food dispensing, reducing food waste.
It is important to note that these enhancements come at an additional cost. Infinity is priced $50 higher than the Solo.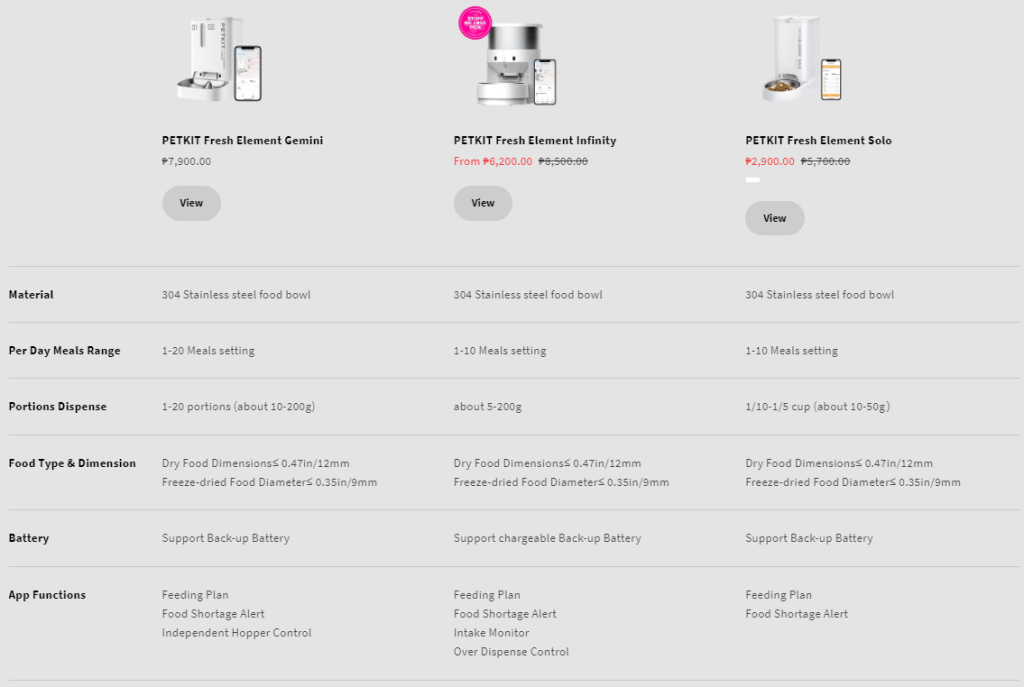 Let's compare Infinity with a few competitors in the market: Feeder Robot by Whisker, PETLIBRO AIR, and Wopet Pioneer. Infinity and Feeder Robot stand out as they both offer smart technology, but they are priced higher than the other options.
Feeder Robot comes with a larger food capacity and a wide range of smart features, which explains its higher price compared to Infinity. However, Infinity offers some advantages of its own, including a pet-friendly food bowl, a rechargeable backup battery, and the ability to dispense both dry and frozen kibbles.
The retail price of Infinity is justified by its features that prioritize food freshness, such as the 304 stainless steel food bowl and triple-fresh lock system. The inclusion of smart features in Infinity remains beneficial for fulfilling your pet's feeding needs.
At present, PetKit is offering a significant discount on the retail price of Infinity, lowering it from $149.99 to $109.99. In other words, Infinity is now available at a more affordable price point.
Pet Litter Box
PetKit has PuraMax, a product that retains all the key features of PuraX while expanding its capacity from 60L to 76L, catering to pet owners who have multiple pets and require a larger storage solution.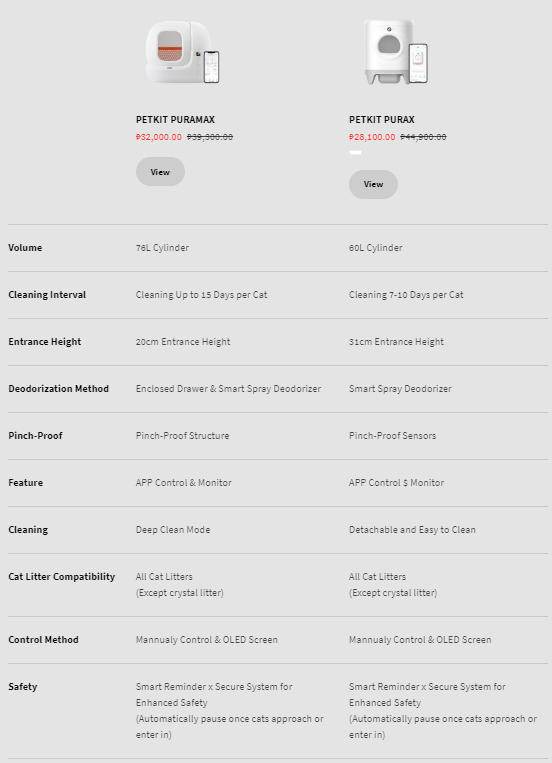 This review compares PuraX with two competing litter boxes: Litter-Robot 4 by Whisker and Smarty Pear Leo's Loo Too.
All three litter boxes incorporate smart technology, although Leo's Loo Too has more limited smart features within the Smart Pear App. Notably, Leo's Loo Too stands out by offering voice assistant compatibility with platforms like Alexa and Google Assistant.
PuraX is pricier than the other automatic litter boxes. But it is currently available at a significant discount of nearly $300, making it more budget-friendly than the other options.
PuraX offers appealing features, including an odor-control system that utilizes a spray deodorizer for effective odor elimination. The cat litter's xSecure System includes various sensors, an intelligent remote alarm, and an accident protection mechanism. You can conveniently monitor these through the PetKit App.
In summary, PuraX presents a compelling choice due to its discounted price, effective odor control system, and comprehensive xSecure System when compared to Litter-Robot 4 and Leo's Loo Too.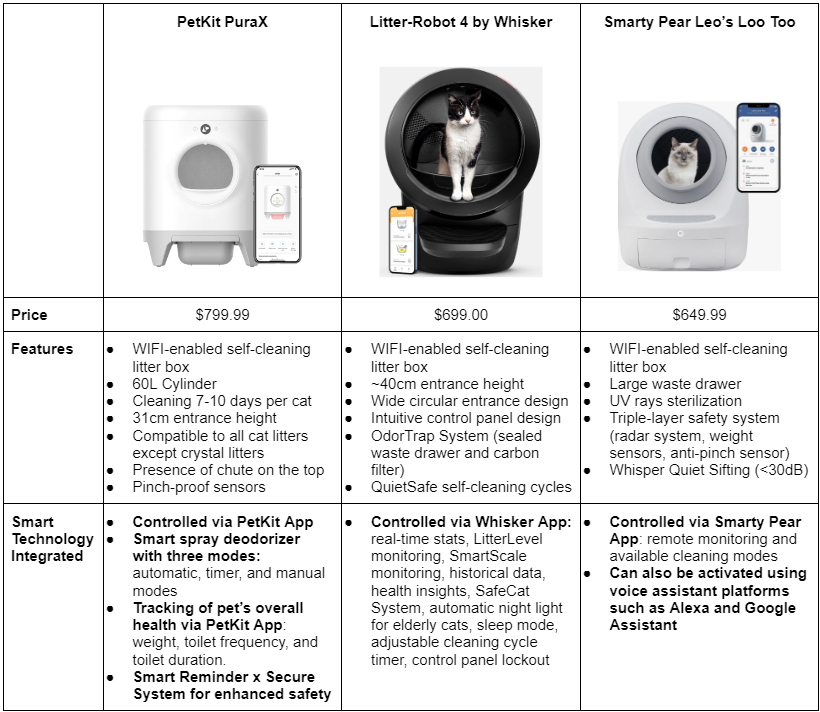 Pet Dryer
Let's compare AirSalon Max with the Homerunpet Drybo Plus.
Initially, AirSalon Max is slightly cheaper at $599.99. However, it's worth mentioning that at the time of writing, Drybo Plus is currently on sale for $599.00, making them both available at the same price.
One unique feature of AirSalon Max is its smart technology, which allows for precise temperature control inside the unit. This feature is not present in Drybo Plus. With such control, you can ensure your pet's comfort during the drying session, as you can set the temperature at intervals as low as ±0.1ºC.
In summary, the AirSalon Max and Drybo Plus have similar price points. However, AirSalon Max offers the advantage of smart technology, providing precise temperature control for an enhanced drying experience for your pet.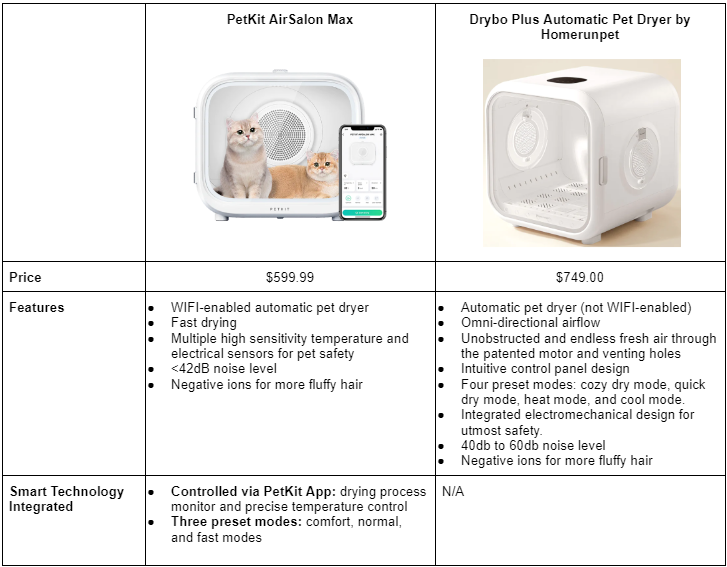 Pet Grooming Kit
AirClipper is a PetKit product that doesn't incorporate smart technology, but this does not impact its primary function of enhancing your grooming and cleaning experience.
In this review, we will compare AirClipper to three competitors: VipCare, PawSailor, and AIDIAM. With the exception of PawSailor, these grooming kits share common features.
In terms of pricing, the retail prices for all grooming kits range from $129.99 to $159.99. However, it's important to note that discounts are currently available for AirClipper ($129.00), VipCare ($99.99), and AIDIAM ($119.99). As a result, VipCare now stands as the most affordable grooming and vacuum kit among the competitors.
What sets AirClipper apart from the others is its optimized airflow system and 3-layer filter system. These features maximize dust collection performance and effectively filter materials based on particle sizes. In addition, the high-speed premium motor generates strong suction, leaving no unwanted fur after a grooming session.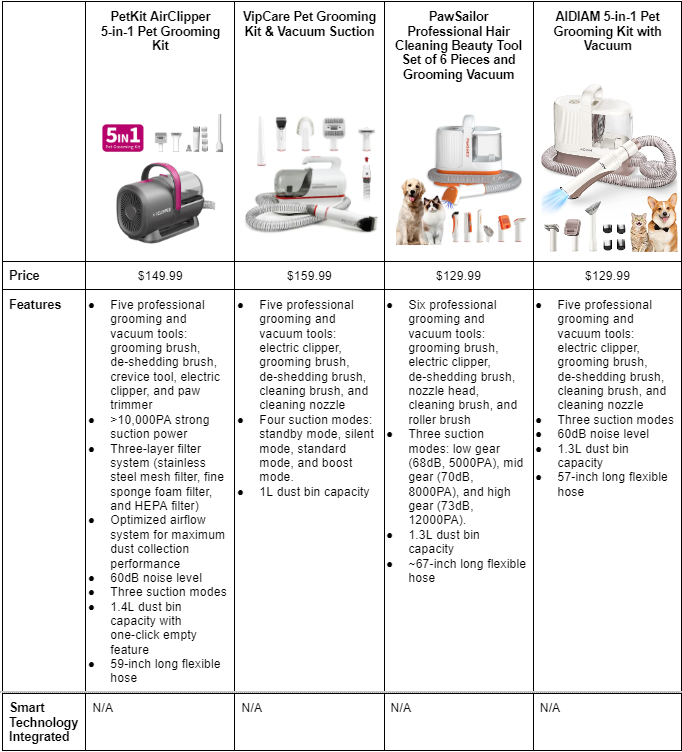 Pet Backpack
Breezy Dome 2 prioritizes your pet's comfort during travel or walking sessions. Comparatively, it is more expensive than its competitors, PROKEI and Defabee. However, the features of Breezy Dome 2 justify its base price of $69.99.
One advantage of Breezy Dome 2 is its PVC construction, which offers improved waterproofing compared to Oxford cloth. To enhance breathability, PetKit has incorporated a quiet built-in fan and multiple air vents. These improve air circulation and promote air convection within the backpack.
In addition, mechanical buttons above the fan allow you to conveniently adjust the wind and light levels inside the backpack.
Breezy Dome 2 also features a 3-layer back support design. This ensures comfort while carrying your pet and minimizes strain on your back.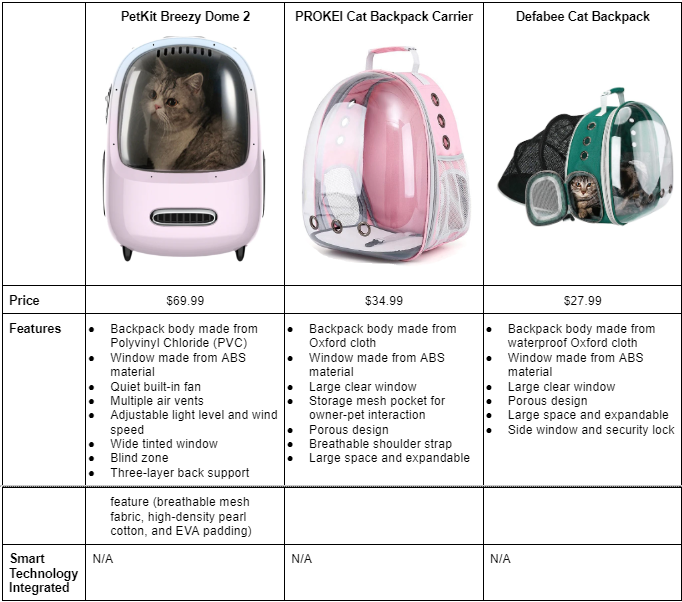 PetKit Reviews: What do Users Say?
PetKit has effectively combined smart technology and intuitive design into all of its pet care products. However, are users willing to use these for pet care? Do they like PetKit's products? Here's what users have to say about the pet care products:
For PetKit PuraMax: "My cat loves her new PETKIT litter box. The assembly was easy. I find my cat is fascinated with watching itself clean…perhaps too much. I get app notifications of 18 seconds in the litter box. I figured out she just wanted to see it clean again. Luckily, the safety mechanism allows her this entertainment. So far, so good."
For PetKit Airsalon Max: "…..I'm glad that I ordered this dryer. It's very well made and has a lot of nice features. I've been wanting one for a long time, and this one is a lot nicer (and larger) than other dryers I've looked at."
For PetKit Eversweet Solo SE: "It was easy to assemble and seems like it will be pretty easy to clean. Very excited for this water fountain!"
For PetKit Fresh Element Infinity: "This feeder is all I need! ultra tech! High food capacity and keep it fresh! Scale that tells you how much food is available in the feeder and still the bowl rotates to prevent food from accumulating and have a surplus food control!! I can check how much my cats are eating and detect any anomalies..and I still get notifications when I have very low food. Best feeder on the market!"
Overall, PetKit products have received positive feedback from users. They have an average rating of 4.7 out of 5 stars based on 350 reviews. Users particularly appreciate the ease of use, quality, and value for the price of the products they have purchased.
Other Information about PetKit
Shipping Policy
PetKit primarily serves pet owners across the United States (exluding Alaska, Guam, Hawaii, Puerto Rico, and the U.S. Virgin Islands).
Shipping is available Monday through Friday from 8 a.m. to 5 p.m., using USPS and FedEx as courier services. If you're in the U.S., you can expect your purchases to arrive within 5 business days. International shipments, on the other hand, may take up to a month to reach you after placing an online order.
For residents in the U.S., PetKit offers FREE SHIPPING on total purchases of $39.00 or more, regardless of weight. There are flat costs if your order falls below $39.00. You pay $5.99 for orders weighing less than 1lb, and $9.99 for orders weighing more than 1lb.
During checkout, PetKit will calculate the total shipping cost for international shipments based on the delivery location. Keep in mind that you'll be responsible for all charges incurred during the export of orders from the U.S. These include freight transit, customs, excise tax, VAT, and other applicable fees.
Return and Refund Policy
PetKit understands the importance of hassle-free returns and refunds, making it your reliable companion in this process.
Return Period: You have 30 days from the receipt of your purchase to initiate a return.
Condition of Returned Items: To be eligible for a refund, the items must be in good condition.
Shipping: PetKit will cover the shipping costs for items returned in their original packaging.
Refunds: Once PetKit receives the returned item, they will process the refund within 14 business days.
Cancellation: If you need to cancel your order before it arrives at your doorstep, you can do so. Upon successful cancellation, you will receive a full refund right away.
It's important to note the following details about PetKit's return and refund policy:
Refunds are not available for damaged or defective items.
PetKit may apply a restocking fee for returned items that are not due to defects or damages.
PetKit reserves the right to refuse a return if an item does not meet the requirements for a refund.
What's the Final Verdict on PetKit and its Products?
You likely have several questions on your mind when it comes to choosing the right pet care products,. To determine if PetKit is the right fit, you should consider your pet's specific needs, your budget, and your lifestyle.
PetKit offers a range of innovative, smart, and affordable pet care products that cater to the needs of pet owners. These products are thoughtfully designed and crafted using high-quality materials.
Here are some reasons why PetKit products are worth considering for your pet care needs:
Smart technology: PetKit products incorporate smart features. These allow you to control and operate them conveniently from your smartphone or tablet. This can be particularly helpful when you're away from home for an extended period.
Intuitive design: PetKit products are designed with ease of use in mind, both for you and your pet. This makes them suitable for first-time pet owners or individuals with busy schedules who seek convenience in pet care.
Cost-effectiveness: PetKit products offer a good balance of features and quality at reasonable prices. They are a great choice for pet owners who are conscious of their budget.
In conclusion, PetKit presents a promising future for pet care. With their products, you can save time on cleaning and maintenance while enjoying more quality moments with your beloved pets.
---
PetKit Coupons/ Deals:
---
CLICK ➤ Up to 50% on PetKit automatic feeders
---
CLICK ➤ Get $10.99 off on PetKit EVERSWEET SOLO 2
---
CLICK ➤ Get $100 off on PetKit PURAX Automatic Cat Litter
---
CLICK ➤ Get $100 off on PetKit AirSalon Max Smart Pet Dryer
---
CLICK ➤ Get $20 on PETKIT AIRCLIPPER 5-IN-1 PET GROOMING KIT
---
Post your review of the PetKit smart pet care products in the comment section below. Or send to us via the contact form!