Please write a Student Coin review before you make a purchase. There you can find the latest customer's opinions around STC coin. Is this cryptocurrency worth to buy? See below. @UPDATE NEW STUDENT COIN PROJECT (SMART MARKETING TOKEN CLICK FOR MORE DETAILS HERE)
---
Student Coin Reviews:
Name/Nickname: Brandon

Going to the 🌙 moon 🚀💰💯, exciting project, future 5-10 dollar coin 💰🪙💪🏿
Name/Nickname: Dimitris

Great job STC Team and community!!! Seems to be a nice project. Will need to wait and see thought.
Name/Nickname: AncusMax

Phaase 62! The concept is very promising! Being able to connect all Universities and even make your own coins make it very interesting! I bought 500k tokens. Imagine if STC could get to only $10; it's $5 Million!!!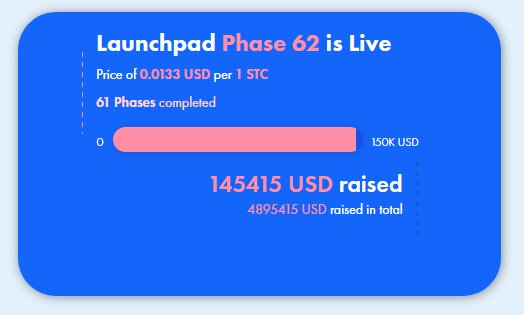 Name/Nickname: Myron

This project is definitely a long term hold! You guys better hurry up an buy before the ICO is over!
Name/Nickname: Eva

Very interesting project, looking forward as one of the first investors.
Name/Nickname: Andreas

Ok, i buy 10.000 STC, and now i'am waiting….. no risk, no fun 🙂
Name/Nickname: Getmetodtc

I figured 😂 I only got 100k but I was in early. I haven't really planned on when I will sell, but at minimum I want to see what STC can do over the next year. If STC is worthless, I'm not out that much money. But if STC starts becoming a bigger player in the crypto space, we could see $1, $2, even $5+ in the next ten years.
Name/Nickname: Kollbrandrr

People should get in while they still have the early bird bonus on. I've only been in for 20 days and its done super well for me.
Name/Nickname: ExactRoll

Student coin is a token that is still in the launchpad stage, the current price is $0.016 however the price in the pre-sale is currently $0.013, so instant profits. However the rounds of the pre-sale are being sold very fast with the price increasing slightly every time. It has been mentioned by Student Coin Telegram admins that it's suspected that STC will be listed on Binance in Q3 which would send it crazy. Great long term investment with a serious chance of rocketing.
Name/Nickname: Ryan

Not a scam. 99.9% sure. I am a crypto investor and have been trying or over two years now. EVERY investment must be examined with risk/reward, and do NOT invest more than you can afford to lose. With that said, I believe that Student Coin, STC, will do well and have no affiliation with anyone who created it nor the schools they attend. The risk/reward here is excellent in my opinion as this penny coin has the potential to make big returns for its investors. Good core global team with a well thought out plan that thus far has exceeded any expectations set beforehand. With the STC exchange about to launch, I cant wait to see the swarms of crypto investors that flock to a make-your-own crypto coin platform. I will be making one myself for my business as soon as I can. This coin, like facebook, was created by a bunch of college students. SO take with you this belief of mine, if nothing else: In terms of monetary value, Student Coin has the potential to be the facebook of crypto. I personally have over 100,000 STC in my Student Coin ICO account and hold over 5,000 STC in my MetaMask wallet. I was not paid to say anything in this comment nor do I stand to gain from it. I will be more than happy with the returns I will get from investing and look forward to building and using my own crypto on the STC exchange. Oh, I almost forgot. The following example I will use to best explain the greatest selling point for me about Student Coin: Let's say I create my crypto using the STC platform, and it is traded on the STC exchange. Now if my crypto's value increases and does very well, EVERY investor staking thier STC will profit from my crypto doing well! Can't wait for the official launch! Student Coin will be a game changer! -Ryan
Name/Nickname: Gabriel

Hope it will be my best investment in 2021. At this moment I have 2.8 MLN. Still thinking about buying more. Maybe 5 mln. But let's wait for more.
Name/Nickname: Leading_Student_83

Let's look at the foundation. Do we have a hype for crypto? YES. Do they have a good team to do that project? YES. Is that project unique? Absolutely! I don't know if we will have 0.5$, 1$ or 5$ but for sure we will not lose money here..

---
Student Coin Bonus Code:
---
CLICK TO ACTIVATE ➤ @UPDATE 5.00% BONUS SMART MARKETING TOKEN REFERRAL CODE (New Student Coin project)
OR CLICK BUTTON BELOW
---
Post your review or opinion about Student Coin in comment section below or send via contact form to us.