---
Take a look at the Valencia Theater Seating reviews. See what customers say about Tuscany Home Theater Seating sold by this company. Read all opinions carefully and decide if it's worth buying this product.
---
Valencia Theater Seating Reviews:
Name/Nickname: Robert

I have 3 Valencia Tuscany seats and love them. Mine cost about $2,900 in a sale. Build quality is exceptional. You'll need two people for an install (took us 90 minutes from box to completed) as the total weight is about 500 pounds for 3 seats. Thanks.
Name/Nickname: Jennifer

I looked at a ton of different theater room seating options, trying to find just the right one for my newly built theater room and I have not been disappointed with my decision. This theater seating set is amazing! It was important to me to find seating that had true high-grain breathable leather because I sweat in the crappy bonded stuff. Also, I wanted it to be powered, have a recline and head rest setting as well as some cool lighting. This set not only checked off everything on my list but also has a powered lumbar setting as well.
Name/Nickname: Decibal

These seats are so comfortable! You get what you pay for right. This is the most important part of any home theater. When sitting there for 2 hours+ you wanna be comfortable.
Name/Nickname: Waggju

My husband has nerve pain in his thighs and lower legs. Sitting is hard for him unless he has good back and leg support. This has worked perfectly for him. We can watch TV comfortably together. Also, he often wakes up early with pain, so now he sleeps in this chair for awhile in the early morning. We wondered about the shipping process for such a large item, but it came quite quickly, they called ahead and made an appointment, and they delivered it directly to our garage. It was in two boxes, so it was much easier to get into place than we expected. We are very happy with our purchase and thank you so much for a great set of chairs.
Name/Nickname: Ricardo

I got the 2 tone red and black with no piping, and they are perfect!
Name/Nickname: Greg

These chairs are very comfortable and look great! Other than getting these beasts into your viewing room, setup is a breeze.

The only negatives I have are as follows;

1) I don't like the controls being located on the vertical face of the armrests. I wish they were still located around the cupholder.

2) the controls are always illuminated. This is a distraction during movie viewing in a light controlled room. It also makes me wonder how long the illumination will last, being on 24/7

3) the seats don't snap/click/lock together. They are heavy so they shouldn't move too much. But a mechanical link between them would be nice. I may just zip tie them together.

4) Valencia describes the lumbar connection as pneumatic, but its electrical.
Name/Nickname: Stew

VALENCIA SEATS ARE AWESOME!

OMG these seats are amazing. I love the diamond stitched quilting look, looks like you are sitting in a Lamborghini. The USB port is so discreet but then I thought I don't want an usb cable laying around on the seats when not in use and they even thought of that. They made a compartment to store the remotes and cables etc wow. The head rest, lumbar support, lighting, tray holder and design/look are what sell these to me. At 6' 4" tall I need neck support and the headrest is a brilliant idea, I also suffer lower back pain so lumbar will help me there. I love under seat lighting and I like to rest my snacks in front of me so the tray is awesome. These are by far the best looking design cinema seating I have seen to date!
Name/Nickname: Kelly

The chairs arrived before the scheduled delivery date.

The delivery fellows were great.

Assembly is required but really only means sliding the chair back onto the seat and plugging in a couple connections.

The chair seemed firm at first but the upholstered chair I had used previously was uber soft.

I like it a lot now.

Nice wide seat will be able to fit a lot of folks

All mechanisms are whisper quiet.

I have a long back so the adjustable headrest is really nice

Nice looking chair, comfortable for me (200 lbs. )

I recommend as of today and will post updates later.

Stay safe!!
Name/Nickname: Mike

It rocks, looks incredibly too, built really well with motorized adjustable headrest, and recline… center console storage, storage under each arm too, no light up cup holders but there's usb charges on each seat. $1100 on amazon. Very affordable and like I said built well. It's very solid, and the seats are soft but also firm, I think it's the best in its price range.
Name/Nickname: Fanny

We bought this sofa for a small entertainment room and it fits perfectly. It was easy to assemble and very comfortable. We are small people (5 feet tall) and some of the features seem to fit better people taller than us, but still very comfortable. This does mean it's super roomy for us. I can sleep in it.

On top of that, the additional features are very convenient. We use the cup holder every day, the USB connections are super useful for phone or game controller charging, we use the space on the sides to store things we use often, and the lights under the seats can be very useful when you don't want to interrupt the movie watching to find something.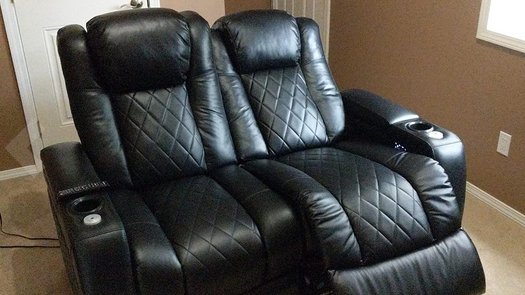 Name/Nickname: Rob

I received 3 Valencia Tuscany seats yesterday and we set them up today. The seats are high quality and weigh 500 pounds! The build quality is exceptional and the leather is very high standard. The seats are completely variable in terms of their reclining, headrests and lumbar support. To be honest these have exceeded my expectations. You'll need two people for the install as they are so heavy. It took my son and me 90 minutes to go from 3 large boxes in the garage to 3 operational seats in my home theater.
Name/Nickname: J.Stancil

We received our new row of two theater seats about a week ago, and have been loving them ever since. They were delivered in two boxes and I was able to get the delivery gentlemen to help me get them inside!

It took longer to unbox them then to actually put them together. I had to connect a few wires at the bottom, and then I put the backs on the seats while my wife lined up the brackets below. There is an instruction sheet that makes this VERY simple.

The chairs themselves are gorgeous and comfortable. The leather feels like you are in an exotic sports car! So far, these are worth every penny! The only problem is trying to keep the yellow lab off of the chairs!

Thank you for a great product.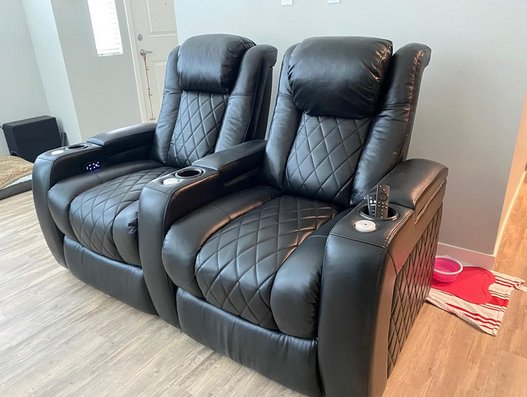 Name/Nickname: Mike

Mine just arrived today. I ordered directly from Valencia. My sales reps name was Yogi. He's new but was very nice and helpful to work with. For those interested, it was 1300 us, inc delivery. If you buy more than 1, you get a small discount. 5-7% I believe. So far, I'm very impressed. Quality seems good. fit and comfort is excellent. I'm 6'4 and the adjustable head rest is great. If you don't pay extra for the white glove delivery, be sure you have someone to help. The box is big and heavy (on a pallet).The movers left it at front door, but I had to open box and bring it inside in two pieces. And the instructions could have been better. If I had had to put a row together I likely would have had to call them for guidance as the included instructions are not clear at all. For the one chair it just had to figure out how to hook up the tube for the lumbar inflation and how to connect the power correctly. Also the power cord could stand to be a little longer. So make sure you have a power strip handy if you are not within 2 feet of an outlet.
---
Valencia Theater Seating Discount Code & Deals:
---
CLICK ➤ $100.00 off Valencia Theater Seating Discount Code – Orders over $2799
CLICK ➤ Upto $4000 off Home Theater Seating Sale
---
Post your review about Valencia Theater Seating products in comment section below or send to us via contact form.